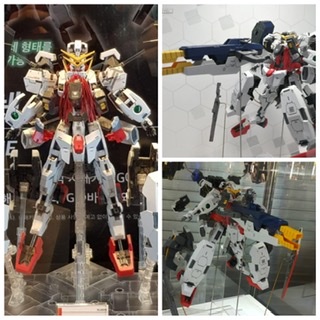 MG 1/100 Gundam Virtue on display. A lot of new images , full item description, release date
27 November 2021, the "MG 1/100 Gundam Virtue" will be released.
Description of item
From "Mobile Suit Gundam 00", the Gundam Virtue on which Tieria Erde is on board is now in the MG lineup!
Pursuing the structure to the utmost limit and realizing the replacement with Gundam Nadleeh, which is also the biggest feature.
The armor can be attached and detached in the image of the setting. The lining parts create a sense of density and stacking.
Each part hatch can be slid to reproduce the GN field expansion state.
The GN cable on the legs uses resin parts that have undergone hologram processing.
The barrel of the GN cannon on both shoulders expands and contracts, and it is moved to the upper part of the fuselage to reproduce the attack form.
The code part, which is a feature of Nadleeh, has a multi-layered structure that applies figure modeling technology to challenge detailed expression.
Includes Nadleeh's exclusive shield, GN beam rifle, and effects.
In addition to the GN drive, a solar furnace is also included as a bonus part.
In addition to the pilot suit, a 1/100 scale figure of Tieria in a dress is included.
accessories
GN Cannon x 2
GN Bazooka x 1
GN shield x 1
GN beam saber x 2
GN beam rifle x 1
Effect parts for GN beam rifle x 1
GN Drive x 1
Solar furnace x 1
Figure x 3 types
Foil seal x 1
Marking sticker x 1
PP sheet x 1
Price 8,800 yen (tax 10% included)