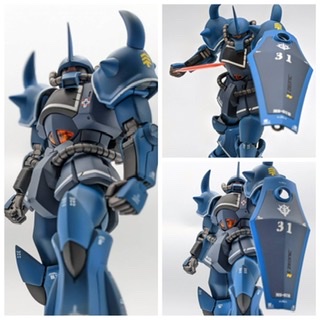 HGUC 1/144 Gouf [Ramba Ral] images, info
HGUC Gouf Ramba Ral dedicated machine
All painting!
It is a straight assembly with only basic work and no modification, only all painting!
The white belt is not a decal
Since it was expressed with airbrush painting, the painting and texture matched and it was finished in a nice feeling
Decals
Gundam Decal for HGUC Zeon MS ①
RB caution decal
As a production process
・ Runner cut twice, gate processing
・ Only shoulder armor can be used for mating.
・ No new streaks, only re-engraving the existing mold of the kit
・ Parts can only be washed by putting them in a colander and using dish detergent.
Production process 2 (all painting process with black base)
-Paint glossy white around the area where you want to put a line
・ Cut the masking tape into 1 to 2 mm pieces and attach it.
・ Airbrush painted Mr. Surfacer 1500 Black on the whole
・ Chest and waist are toned in light blue, blue, and black
・ Others are painted Tamiya's blue
・ Semi-glossy top coat
It's done!
Work by 龍さん