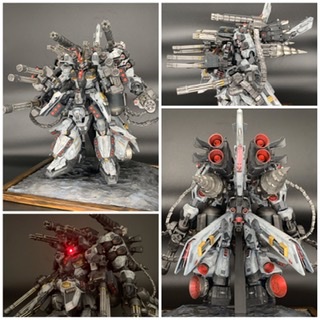 Mixing Build HGUC 1/144 Gauman Nobil's Messer Full Bullet: many images with work in progress too, info and credits
It is a Messer full bullet exclusively for Gauman Nobil.
It is a short-term decisive battle specification with high mobility and high firepower
I watched Messer, who had been regretfully killed in the play, and made it this time to make it a MS that will never lose.
Armed
Gatling gun x 6
Beam Gatling Gun x 4
Missile Launcher x 74 (The hand grenade of the full armor unicorn is also a missile
(All the red round ones are missiles
Vortex drill x 2
Posted in Orazaku.
Anyway, it's in full bloom.
I tried to mix them in a well-balanced manner as a whole and make the work spectacular from every angle.
Since it is quite heavy, the pedestal is supported by two points.
LED is installed in the mono eye
The manufacturing process starts here.
When I saw a Twitter follower carrying an MS on his back, I thought it was cool and started to make it
Since it became larger overall, the legs of 1/60 Freedom and the legs of MG Qubeley were attached without any discomfort.
From here, I started to chop up RG junk and paste it, streak carving, plastic board, etc. to improve the details.
Work by プリン
@lgurgbe3bgl0mmk on Twitter