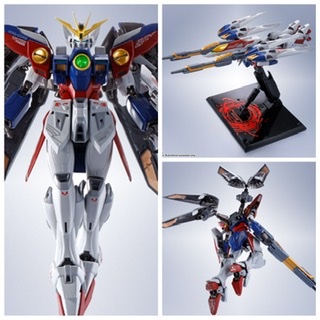 METAL ROBOT Spirits Wing Gundam Zero release date changed, full info and many images
"New Mobile Report Gundam W" The leading MS Wing Gundam Zero appears in the METAL ROBOT Spirits.
Sharp modeling, precise painting expression, and heavy die-cast parts are used for a high-class finish. Furthermore, it is equipped with gimmicks such as opening and closing without replacing the machine cannon and transformation to the neo-bird form.
The machine cannon built into both shoulders faithfully reproduces the deployment method in the play. The METAL ROBOT Spirits is equipped with a gimmick that rotates the barrel and stores it in the cabin.
Dynamic poses are possible due to the joint mechanism of each part. The buster rifle can be switched between a double-mounted state and a split state, allowing you to reproduce the impressive scenes in the play.
Also possible in neo-bird form. The legs can be deformed without replacement, and the vernier exposure of the sole is also reproduced.
Thruster units and vernier mounted on the backpack are also thoroughly modeled, and the opening and closing structure and mechanical details create a dense back view.
A high-class finish that interweaves detailed painting expression and die-cast parts with a profound feeling.
The beautiful silhouette of Wing Gundam Zero is reproduced by completely new modeling.
Product specifications
Overall height: Approximately 140mm
Material: ABS, PVC, die-cast
Set contents
・ Main body
・ Three types of replacement wrists
・ Twin Buster Rifle
・ Wing shield
・ Two types of joints for soul STAGE
・ Beam saber blade x 2
・ Beam saber pattern x 2
・ A set of dedicated pedestals
Price: 14,300 yen (10% tax included) 13,000 yen (excluding tax)
Release date: December 2021