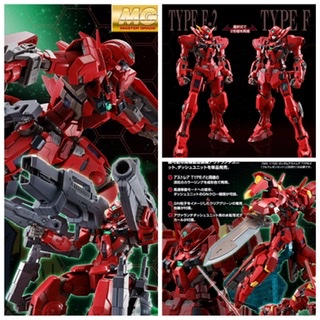 P-Bandai MG Gundam Astraea TYPE-F / F2 Full Weapon set (Avalanche Dash Unit) full official images, info
Reservation starts at 12:00 on December 2, 2021
Price 6,820 yen (tax included)
Scheduled to be released in April 2022
Reproduce the characteristic body shape
The head, collar, chest, shoulders, abdomen, front armor, rear armor, arms, and knee sides, which are different in shape from Gundam Exia, are reproduced with new modeling.
Head
The concealment and exposure of the Gundam face can be reproduced in a selective manner.
GN drive
Reproduce the GN drive, chest and back armor with new parts.
Can be equipped with a LED unit sold separately.
Includes numerous weapons designed according to MG standards
Proto GN sword, proto GN launcher, GN hammer, GN beam rifle, GN shield, NGN bazooka, etc. are newly included.
Two types of Gundam Astraea Type F and Type F2, which have different shapes from the head, waist, arms, and legs, can be reproduced by selecting parts.
Newly designed water slide decals are included
Included armament: Proto GN Sword / Proto GN Launcher / GN Beam Rifle / GN Hammer / GN Shield / GN Beam Pistol / GN Bazooka / GN Beam Saber / GN Missile / GN Sword / GN Long Blade / GN Short