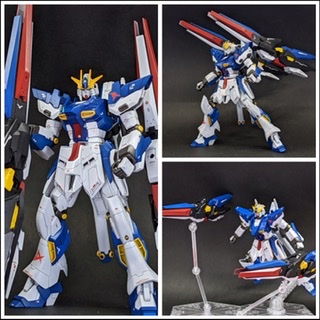 Custom Build 1/144 RX-93ff Nu Gundam based on HGBF Hi Nu Gundam Vrabe: many images, info
I made it with the image of Hi-ν version based on ν Gundam in Fukuoka.
Although it is called the Hi-ν version, I did not have a kit, so I used it based on the Hi-ν Vrabe. Refer to RX-93ff ν Gundam for coloring. If you carry two long items on your back, you will get a nice volume.
No funnel ver
Add a streak carving as a whole, and add decals to improve the details. The protrusion on the shoulder has been slightly scraped, the nozzle of the propellant tank has been enlarged, and the funnel connection joint has been slightly modified.
Long Range Fin Funnel II
I tried to reproduce the funnel of the original family with junk parts, but there are no parts with similar shapes, so I created it as an original.
Hi-ν Vrabe funnel, Euraven calf, Teltium Arms booster to make the main body, and adjust the balance with fine parts
You can also hang it on your arm like the head family
Before painting
I made a large weapon for the first time this time, and I'm glad that the finish was as I expected.
Work by 冨岡バエル