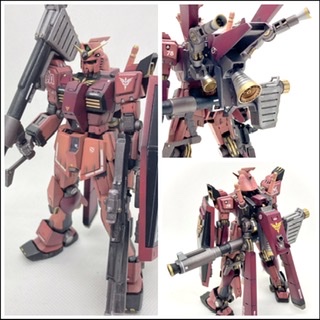 Custom build Entry Grade 1/144 RX-78/C.A. Casval's Gundam: images, info and credits
I made my own Casval Gundam using EG RX-78 Gundam. Since EG is cheap and easily available, I was able to scrape and paste it without hesitation, so I made various changes.
Since it is set to be equipped with a simple psycho-commu like a biosensor and an all-sky surrounding monitor, the area around the cockpit has been enlarged. By the way, Psycommu is not a bit operation or remote control, but the purpose is to improve the followability of the MS like Sinanju.
The legs have been enlarged to give a Zeon-like appearance. Attach a blade antenna to the head and make the back of the head look like an iron helmet. The knees and elbows are sharpened. A sighting device is added to the tip of the bazooka. I can mount a bazooka or beam rifle on the waist.
The backpack is equipped with a large thruster inspired by the Zuda engine. I'm fantasizing about the hot story of a ZUDA engineer who wasn't hired and had a dream of collaborating with Char's exclusive newtype engineer, Arlette. The propellant tank is a setting that doubles as a wing binder and assists the unback system.
By using Psycommu, it is possible to make accurate two-point simultaneous attacks with both hands armed. A grenade launcher has been added to the beam rifle as a measure against the eye field.
Proportion change and detail improvement by plastic board work. Beam rifle remodeled Kotobukiya's support parts.
The backpack is made by combining Kotobukiya's support parts and plastic boards. The surplus parts of HG Barbatos Lupus Rex are used for the joint part of the propellant tank. I attached a quick-firing gun to my arm, which was based on Gelgoog's.
Add a cylinder to the ankle with a brass pipe and an aluminum rod.
For the legs, cut the slippers and add joints. By extending the base of the thigh by 1.5 mm and sharpening and extending the knee, it can stand on your knees naturally.
Work by 豆じろー
@oyfc3sa5msrku2g on Twitter