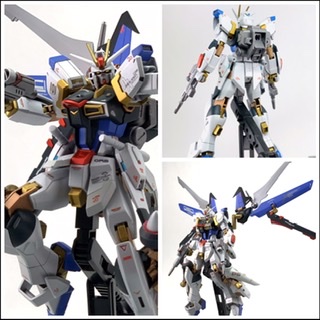 Mixing Build HGCE 1/144 Impulse Gundam Libertas: images, info and credits
I made it with the IF setting that if there was an impulse dedicated to Kira.
The main body is HGCE Impulse, both arms are HGCE Strike Freedom, the back is HG Noir Striker, and the foot increase booster is brought from HG Ginn Maneuver. Others are also volume up using RG Tallgeese junk parts.
it is a custom Kira Yamato dedicated machine that combines junk parts of various camps based on the Destiny Impulse R that was flowing in the black market.
Back shot. With reference to MG Strike Noir, Fragarach can be deployed like a wing. I like this back, which has been increased in volume with the RG Tallgeese booster.
The additional booster is equipped with a magnet so it can be easily removed.
The back of the impulse prime state. I made up the connector of the striker pack from the junk item and attached it to the back.
The painting is based on MGEX's Strike Freedom, and the white and blue parts are painted with Gaia Notes' Aura Pearl White.
I really like the combination of pearl gold and pearl copper on the joints!
Vernier from the back. I tried to improve the details using metal parts for the first time
Work by オブライト
@tromboy141 on Twitter