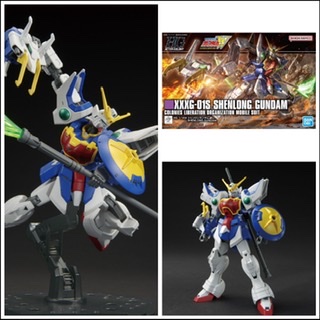 HGAC 1/144 Shenlong Gundam: box art and new official images released. ("HG 1/144 Shenlong Gundam" will be released on September 10, 2022.)
Description of item
The XXXG-01S Shenlong Gundam (aka Shenlong, Nataku, or Gundam Zero-Five) is mobile suit featured in Mobile Suit Gundam Wing. Piloted by Chang Wufei, it was later upgraded into XXXG-01S2 Altron Gundam.
Side bending and forward bending are possible with the movable shaft provided inside the chest block. The cockpit block moves up and down when bending forward and backward.
The range of motion is improved by the sliding mechanism of the shoulder joint. Combined with the movement of the chest, it supports dynamic poses.
In addition to reproducing the deployed and retracted state of the characteristic weapon "Dragon Fang", you can also reproduce the arm extension with the attached extension parts.
In addition to weapons such as shield and beam glaive, various hand parts are included.
accessories
Beam Glaive × 1
Shenlong shield × 1
Hand parts (left and right) x 3 types
Joint for dragon fang expansion and contraction × 2
Seal × 1
Price: 1,650 yen (including 10% tax)