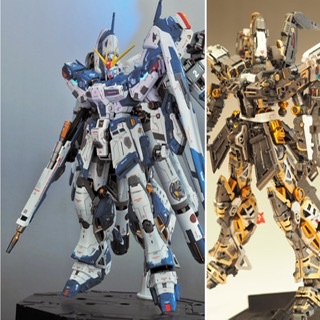 雲雀's RG 1/144 Hi-Nu Gundam Blue Impulse ver. Images, info
I created it with the setting of Hi-ν Gundam deployed in the Air Self-Defense Force's Blue Impulse Corps.
This kit was lucky enough to be purchased in February and was on display until August.
When I saw Top Gun around July, I looked up various scale models, and among them, I looked up Blue Impulse.
I still have a long way to go with streak carving and painting, but I put everything I had into the aircraft.
I painted some places with fluorescent paint to make it glow. By the way, the Blue Impulse logo is a sticker.
The funnel and funnel rack are connected with a neodymium magnet.
That's why racks are so big.
Although it is almost hidden, the inner frame was also painted with a brush.
Details are improved using plastic plates, streak carvings, and detail-up parts.
For the tank, I added weapon parts that were left over when I created the scale model before.
I thought that the paint would peel off when putting the funnel in the funnel rack, so I embedded neodymium magnets on both sides so that they could be connected. It just became too heavy…
The color scheme of the funnel looks like Blue Impulse and I really like it
Work by 雲雀