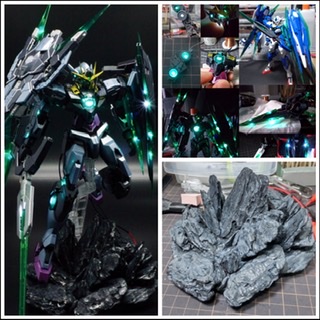 plasdriver_mn's MG 1/100 00 Qan[T] Full Saber full LEDs: images, info and credits
MG Qan[T] Full Saber! It's a kit that shines with lights
I wanted to make it look a little darker, so I changed the color scheme.
I simply like GX Metal Black and GX Ice Silver…
The range of motion is slightly sacrificed for routing the wiring.
Swords are completely fixed.
It's troublesome to prepare connectors and terminals
The clear parts of the armament didn't shine so well, so that's the next task.
When I was working on the lighting for the body, I thought stupid things like "I'm going to tie up the cannonball LEDs!", but in the end I also used chip LEDs.
Cannonball 9 pieces
19 chips
… I think it was
MS with cool silhouette
Only the marking seal was painful.
The production process is simple
I was worried about it, and I planted the LED.
The feeling of accomplishment when everything was assembled and the lighting test passed was amazing.
In order to hide the battery this time, I painted the pedestal as a breather.
I paint as I want without thinking about anything… I think he had the most fun face
Work by プラスドライバー
plasdriver_mn on Instagram