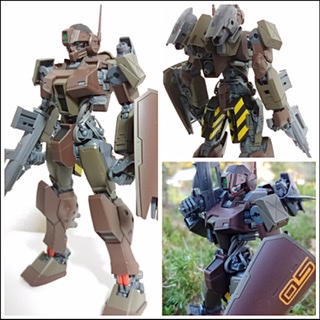 YOSHI竜's MG 1/100 GM STINGER: images, description
Ground Combat High Mobility Type Prototype Mobile Suit
Gm stinger
It was supposed to be the 5th unit of the special forces led by Juggernaut, but as the war intensified, it was sent to the front lines of the battlefield. A prototype mobile suit based on GM Sniper 2, which pursues speed while reducing the weight of the aircraft. The fastest mobile suit in the RGM-79 series, with added boosters and reduced weight to enable it to travel at the speed of sound despite being a non-variable machine.
Some of the armor, such as the calf and shoulder armor, has been reduced or removed to make it slimmer. The power pipe is exposed on the waist and it's bad in various ways, but let's just leave it at that!
As for the rear view, the waist is thin, but the thighs? It is a rather massive impression by enlarging it. Personally, I really like this style, which is completely different from the special forces series so far.
Posing while running
By removing a part of the shoulder armor and body armor, the twist and tilt of the waist can be widely taken, and it looks really fast
Shoot the machine gun while avoiding the opponent's attack!
It's a way of fighting that can't be done with a heavy mobile suit.
The most important feature in the production of Stinger is the power pipe. Rather than just having a pipe, isn't it an oblique abdominal muscle that sticks to the human body? It is reproduced using multiple rubber pipes so that you can think of it.
I also tried pushing the Gundam Face into the GM Sniper head. I thought that the twin eye would be closer to the image than the visor, so I made it by imitating Slave Wraith.
Looking from behind, I think that the image of the speed of the production task has been reflected firmly.
Work by YOSHI竜