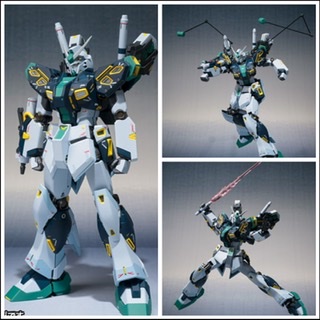 METAL ROBOT SPIRITS (Ka signature) Mass-produced Nu Gundam, Tamashii Web Shop will start accepting orders from 16:00 on October 3, 2022: full description, official images
From 16:00 on October 3, 2022, orders for "METAL ROBOT Spirits (Ka signature) SIDE MS Mass-produced Nu Gundam" will begin at Premium Bandai's Tamashii web store.
Description of item
From Hajime Katoki's production brand Ka signature, a mass-produced Nu Gundam has appeared.
Commercialization under the full supervision of Mr. Katoki, from the proportions of the main body to the modeling of each part, coloring, and marking.
The characteristic main color, blue and white, is reproduced in two shades, and the yellow accent colors scattered everywhere are also expressed with Mr. Katoki's particular color.
The characteristic backpack is equipped with four Incom, and the Incom rack is deployed.
Combined with the included cable, a powerful display at the time of Incom injection is possible. By deploying the two beam rifles to the front, it is possible to reproduce the cannon form.
Die-cast is used for joints.
Appearance work "Mobile Suit Gundam: Char's Counterattack" MSV
Main product contents
・Body
・Replacement wrist left and right 5 types each
・Beam saber x 3
・Beam saber effect x 3
・Beam spray gun
・Beam Rifle
· Incom cable x 4
・Incom joint set
・Shield
・A set of pedestals, struts, and joints
 Main product materials  ABS, PVC, die-cast
Product size Overall height: about 160mm
Sales price: 18,700 yen (tax included)
Delivery date: Scheduled to be shipped in March 2023