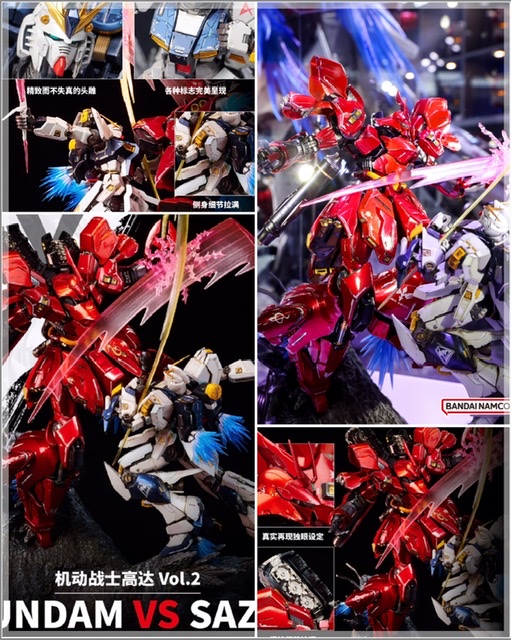 In the spring of 2024 "BNFIGURE DX Mobile Suit Gundam Vol.2 Nu Gundam VS Sazabi" will be released exclusively in China. Official images and info
Description of item
B&N FIGURE DX
Build-up & New Generation
BNFIGURE
DX
Mobile Suit Gundam Vol.2
Nu Gundam VS Sazabi
BN Figure D X
Gundam Series Pre-painted Finished Product Premium Scene Figure
The 2nd edition is here!
This product is the second item by inviting Mr. Junichi Akutsu, the designer of "Gundam Astray", which is loved by fans all over the world!
"Gundam Astray" designer Junichi Akutsu was in charge of the original detail design and diorama composition.
As a result, we succeeded in realizing the never-before-seen v Gundam and Sazabi.
Specially designed from the weapon in hand to every detail.
It was the birth of "BNFIGURE DX Mobile Suit Gundam vol.2 v Gundam VS Sazabi".
Reproducing the precise prototype and minute details, it became a masterpiece that surpasses conventional craftsmanship.
ASTRAYS Co., Ltd. is a research and development company that plans, develops, and designs toys.
Representative product
METAL BUILD Gundam Astray Series
METALBUILD DORAGONSCALE series
BNFIGURE DX Mobile Suit Gundam Vol.2 νGundam VS Sazabi
Realistic reproduction of the first setting
Turbine detail
Reproduction inside the armor
Coloring closer to the original than the decomposition machine.
The foot armor is fully expanded and the details are enriched.
Over the long history of Gundam-derived machines, technical issues have plagued the release of high-quality model products, and a series of technical problems have hampered the release.
In order to fill this gap, after a great deal of effort, we have created a series of high-quality scene models made by professionals.
This time it's the 2th part.
Delicate and realistic head sculpt
A perfect logo
side detail
leg armor detail
Lightsaber and sparks fly. full of dynamism
Comparison with the first version
A complete model consisting of 480 parts.
Reproduce high-precision details that are comparable to the finished product.
Aging paint that surpasses general mass-produced models and a new pad print design.
Compared to the first bullet, the number of parts and body size have been increased.
The joints are not movable, but the parts are made as finely as possible.
Overall more realistic and more mechanical.
Dynamic poses and careful layout.
In order to reproduce the famous scene where the νGundam pierces Sazabi with its beam saber, it has been carefully laid out.
Scheduled to be released in spring 2024
Price: 2,899 yuan