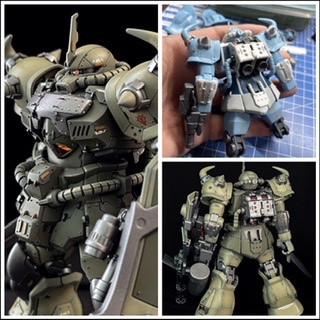 This is one of the best remodeling work for the Gouf Custom in the HGUC Series: images, wip, full info-work and credits
HGUC 1/144 Gouf Custom MS-07B3
It has been refurbished and created.
This time it's a lot of streaks and other
I made it with the theme of heat press, rivet and weathering.
As always.
The whole rivet is colored with red, gunmetal, and gold this time.
Modification points
Head → streaks, smaller face, shape change, mono-eye H-eyes, blades are remade into 3 layers with plastic plates, and power pipes are remade with plastic rods and plastic pipes.
Chest → Armor added with plastic plate, volume up, streaks, etc.
Waist → 4mm wide in total, add details after adding armor with heat press
Shoulders → streaks, spikes are slightly modified builder's parts.
Arms → Sujibori added, arm armor added with plastic plate. The barrel of the triple Vulcan has been reworked.
Backpack → Enlarged to about 2 mm wide, details added,
Legs → Thighs and shins are widened by 2mm, then armor is created with heat press, and details are added with strips and rivets
Change the barrel to 4 barrels with Gatling → Scratch, and remake the caliber larger.
Decal → Water transfer decal used, logo used Bandai genuine decal
Color → Toning pure black on base Gaia Mesafu Heavy
Main color → body Gaia dark green toned even darker
Painted with Gaia Color Dark Yellow
TOP coat → Gaia clear (matte)
Work by @black57775 (Twitter account)