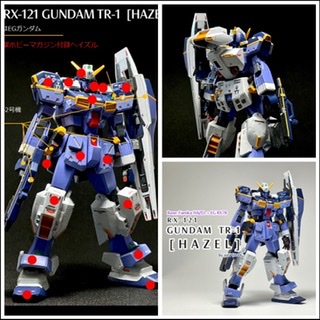 gpo144's Mixing Build EG based RX-121 Gundam TR-1 Hazel: images, info and credits
Title: 電ホビ付録ヘイズル フル可動バージョン
Before the release of Hazel's Gunpla from Bandai, the January 2004 issue of Dengeki Hobby Magazine, included Hazel's original Gunpla as an appendix.
It was a Gunpla with fine details and an extremely cool standing pose, but with unbendable knees and elbows, soft soles of its feet, and a slender beam rifle (it seems that many people have made it fully movable with ball joints, etc.).
I have 2 or 3 of them, but I was thinking of making them standing up and painting them in two-tone colors.
And when I made the EWAC GM a little while ago, I toned that purplish gray (?), so I decided to paint it using that. No, but now in 2022, unlike in the past, there is a good material called EG Gundam that is perfect for remodeling.
Work by gpo144 on Twitter