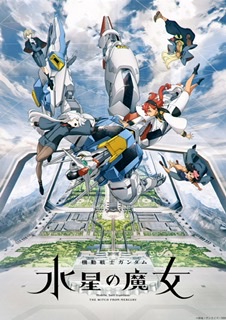 News: The Witch From Mercury Anime's 1st Part Ends on January 8
放送スケジュールのお知らせ

『機動戦士ガンダム #水星の魔女』12月18日(日)の放送は、
TBS『報道の日2022』特別番組編成のため休止となります。

そちらに伴い、今後の放送スケジュールは下記を予定しております。#G_Witch

— 機動戦士ガンダム 水星の魔女 (@G_Witch_M) December 6, 2022
The official Twitter account for the Mobile Suit Gundam: The Witch From Mercury anime announced on Tuesday that the anime's 1st part will end with its 12th episode on January 8. The anime will suspend its broadcast on December 18 due to TBS' Hо̄dо̄ no Hi special end-of-year programming. The series will then postpone airing again on January 1 due to special New Year's programming. Episodes 10 and 11 will air on December 11 and December 25, respectively.
The series previously aired a compilation special on November 13, delaying the seventh episode's broadcast.
The show is the first main Gundam television anime series with a female protagonist.
The anime's official website published an English translation of Ichiro Okouchi's "Cradle Planet" prequel short story for the anime on November 10. The story is told from the point of view of the Gundam Aerial.
The anime will also have an upcoming novel adaptation. The anime's SF Researcher and novelist Yūya Takashima is writing the novel adaptation. The novel will be serialized in the Gundam Ace magazine.
Source: Mobile Suit Gundam: The Witch From Mercury anime's Twitter account via Otakomu