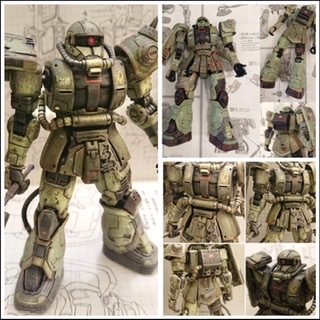 でぃーこん's HGUC 1/144 Doan's Zaku weathered with salt: info, images and credits
This time, I scraped the salt off and then hit it with a hammer. It must have seemed crazy to others.
Drying time
It is said that sun-dried fish tastes best, so this Zaku is also dried in the sun.
Top coat special spray
I wanted to make the peeling look realistic, so I blew the base color gray appropriately and wasted the designated color green spray that I was worried about in stock.
Bath time (Salt remover)
Also, due to the fact that it was soaked in hot water for too long, the top coat peeled off and the color of the American crayfish was exposed frequently.
The appropriate water temperature and soaking time remain unknown.
Since there were many places where the surface had peeled off more than I had imagined, it was already troublesome, so I applied a top coat while leaving the exposed American crayfish color as it was (salt processing wasted…)
Seal application and surface protection
After drying, the matte spray will be wasted to protect the surface.
Crank processing
I intended to make the rust more elegant than the salt gog, but I still feel frustrated that I can't control the rust of salt processing.
After all, I thought that even a small grain of salt would look like exaggerated rust for an 18m class weapon…
Inking & staining & Tamiya powder
I tried using water-based paint for staining, but I didn't know what to expect, so I used the usual diluted enamel paint…
Work by でぃーこん
Here below his account on Twitter