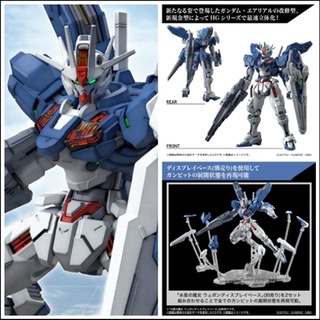 HG 1/144 Gundam Aerial (Rebuild) 改修型 on sale March 2023. Official images, video and full info
Description of item
From the latest Gundam series "Mobile Suit Gundam The Witch from Mercury", the repaired version of the main character Gundam Aerial is made into a three-dimensional HG series with a new mold!
The shield can be separated into 11 bit staves. Connected to various parts of the MS
The shell unit is reproduced by combining in-mold parts, seals and clear parts. It is possible to selectively assemble a luminous state and a non-luminous state.
Beam parts are expressed with clear molding.
The length of the barrel of the beam rifle, which is a new type of dedicated portable weapon, can be selected by recombination. You can also reproduce the Gambit Rifle with all bit staves connected to the barrel.
accessories
Beam saber × 2
Beam rifle × 1
Shield x 1
Shell unit clear parts x 1 set
Sticker × 1
Price 1,870 yen (including 10% tax)