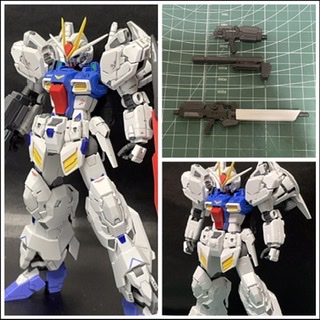 RG 1/144 Gundam GP01 Kai Zephyranthes Over custom build: info, images and credits
[Gundam GP01 Kai Zephyranthes Over] "All Round (Universal Type) Full Burnern"
During the Conflict, it was refurbished for space combat as originally planned without going out into space with ground equipment and not being wrecked by Cima. After that, the surviving Second Lieutenant Uraki switched to the GP03D, so this machine was sealed deep underground in Anaheim.
During the Second Neo Zeon War, it was renovated and revived by incorporating the know-how of the ν Gundam and Moon Gundam.
Equipment: Head Vulcan, Beam Vulcan and Beam Saber: Portable V.S.B.R
I spent a lot of time collecting the materials, so it didn't take that long. I wanted to make a configured MS, so I think I was able to achieve my goal and I'm satisfied
I think the balance between RG's GP01 and HG's Moon Gundam made it powerful and massive.
There is no action pose because each joint is stiff and tight so that the standing posture can be determined.
In the first place, the joints and balance of RG and HG are messed up, so I reviewed from the connection part.
The first problem is Moon Gundam's ankle roll problem. It's the hardest part
Two types of rifles are available.
Work by テル @teru_nakatu on Twitter