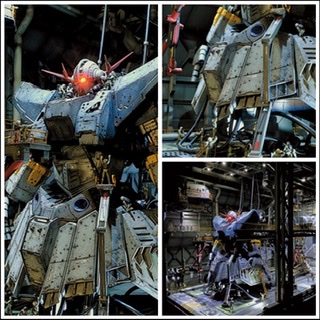 25th All Japan Ora Zaku Championship team Yoshi: From Mobile Suit Gundam episode 42 "Space Fortress A Baoa Qu" 1/100 scale Diorama: images and full info
From Mobile Suit Gundam episode 42 "Space Fortress A Baoa Qu"
Crow production team Yoshi (Nara Prefecture, 48)
BANDAI SPIRITS 1/00 ​​scale plastic kit "master grade" Zeong and others used
Last year's grand prize work had a great impact, but this work is a diorama that is as impressive as it is. Many of the judges focused on the performance that turned out to be a picture no matter where you cut it, and the scenes that were created down to the smallest detail over time.
Just imagining the amount of work puts my head down. The production of a huge feeling is also wonderful. (Kimura)
I don't need words anymore… This work, this view of the world… Thank you. (Saira)
Finally completed! ! That's how I feel. (MAX)
It's a masterpiece that makes you feel like you've seen the real Zeong! (Rida~Joe)
Award Comment / Karasu Production Team Yoshi
Nice to meet you, my name is Yoshi, and I belong to a model circle called the Crow Production Corps.
"I am truly honored to have received such an honorable award." We would like to thank the judges and the editorial staff for their deliberations.
"Thank you, Honma."
"I'm also grateful to my friends who always support me, and my family who go out of their way to support me, not just for this work♪"
Regarding this Ora Zaku application, I wrote it on the application form, but in my mind, I thought it would be a violation of the regulations…
This is because he participated in the previous Ora Zaku as the main body, Zeong alone. I myself thought that it was a different work with some modifications, but that was a selfish decision, so I was in a half-give up mode. At first, I was thinking of not participating, but with the encouragement of my friends, I decided to participate.
"Because of that thought, I even received an award, and I was so grateful and happy that I cried in my car…"
The reason I worked on Zeong was because I wanted to make it more like the final boss. I was surprised because I didn't know that the RG Zeong was released in the middle of production, but I imitated the antenna
As a work, I intended to make it a diorama in the end. However, if you look at the repair of the main body, you will find that you have attached a ridiculously large tank.
"No matter what, it was no longer something that could be used as a diorama with poses that would allow it to move, so we had no choice but to make it look like a base or a hangar while we were making it."
The content is a little different from the anime, and there are parts that were taken as an Ola setting, but that scene. I had a lot of troubles, such as my first craft, but last year's grand prize work was very stimulating and I was able to raise my motivation.
"Finally, I have very little knowledge of the Gundam series, and I don't have any outstanding skills." Because of that, you can make it freely without worrying about detailed settings.
"Well, Gunpla is free!" "That's exactly what I came here for."
"I'm not good at painting, but I love painting and weathering." I'm really lucky and happy that the result of doing what I can do and what I like has been recognized on the stage of Orazaku.
"I would like to continue to challenge myself in that style."
thank you very much.
Via Hobby Japan Web