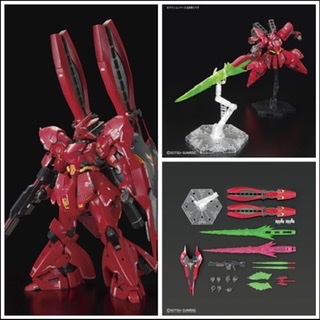 Limited RG 1/144 MSN-04FF Sazabi, GUNDAM SIDE-F, released on April 22, 2023. Official Images, Promo Video and full item description
On April 22, 2023, "RG 1/144 MSN-04FF Sazabi" will be released at GUNDAM SIDE-F in Fukuoka.
Description of item
A limited edition product commemorating the 1st anniversary of the shop area "GUNDAM SIDE-F", which handles a variety of Gundam information and goods, including the "RX-93ff νGundam".
The "MSN-04FF Sazabi" that appears in the special video production of the life-size νGundam statue is finally three-dimensionalized in RG!
■New realistic decals are included in addition to molding colors closer to the image in the play!
■Reproduce the double horn funnel, which is the biggest feature, with new parts! Gimmicks such as deployment to the launch form and mounting on the arm are reproduced, and it is possible to create an image of flight form in single or connected form!
■Effect parts for double horn funnel saber are included.
■ Saber effect parts for the long range fins and funnels of the "RG 1/144 RX-93ff νGundam" (sold separately) are included.
■ Action base 5 is included, allowing you to connect and display the double horn funnel.
■ Weapons such as arm cylinders and funnels are faithfully reproduced, and the propulsion parts such as verniers and backpacks are equipped with deployment mechanisms based on actual machine research!
■ Abundant hand parts and weapons that symbolize Sazabi are included, and various poses are possible due to the high range of motion.
*Not available for general distribution.
*This product is scheduled to be sold at a later date on the BANDAI NAMCO Group's official online store, THE GUNDAM BASE stores, and overseas.
Price 8,580 yen (including 10% tax)