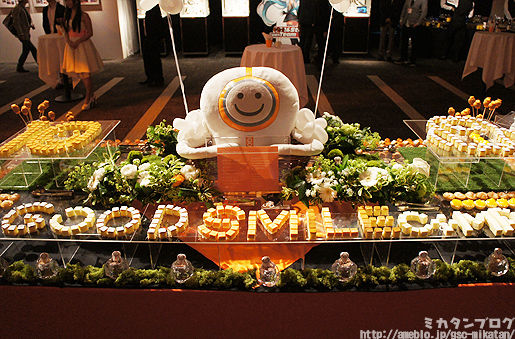 A giant GSC Mascot to greet everyone.
The "GOODSMILE COMPANY" written here is made from cake.
Gifts.
Everyone who came along to the 10th Anniversary (on 1st May) got a bag of goodies.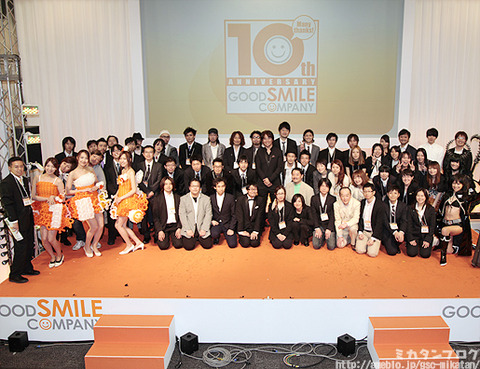 One last photo of all the staff!
Good Smile's 10th Birthday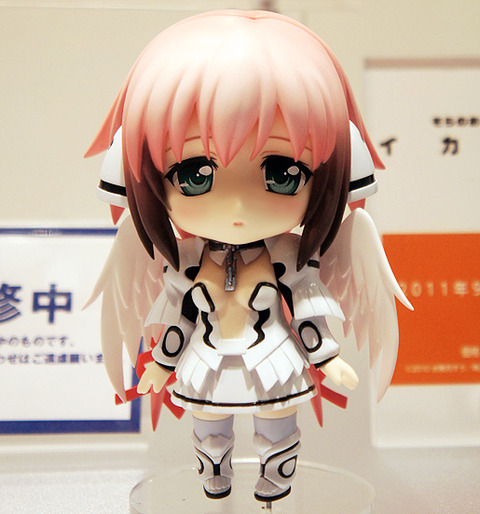 Nendoroid Ikaros
She also comes with three expressions – the one you see here and two others…
Nendoroid Gumako
This will be the first in a series of charity products under the name "Cheerful Japan"
The Good Smile Mascot in the front is also included.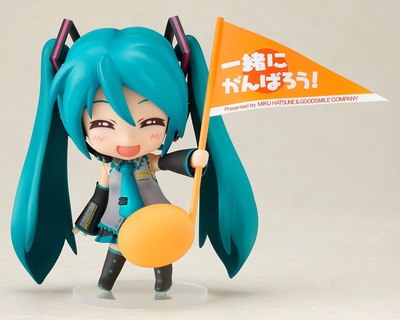 Good Smile Company (GSC) head Takanori Aki announced at the Japanese figure maker's 10th Anniversary Appreciation Festival on Sunday that GSC received 74,394 orders worldwide for its earthquake charity Nendoroid figure. GSC is reissuing its Nendoroid figure of the virtual idol Hatsune Miku with limited-edition accessories, and 1,000 yen (about US$12) of the 3,000-yen (US$36) price will go the Japan Red Cross to support victims of the Great Eastern Japan Earthquake (Higashi Nihon Daishinsai) disaster. Based on the number of orders from Japan and 40 other countries, GSC will donate 74,394,000 yen (US$913,260).
In addition, GSC unveiled its second charity figure, which will be a Nendoroid of GSC's Gumako mascot (with a figure of the Gusssma Seijin character). The new figure will go on sale in the middle of May.
GSC is establishing a Good Smile Shanghai offshoot in China and producing a book about its Nendoroid figures. The musical group JAM Project created a "Hikari e no Countdown" (Countdown to the Light) song to mark GSC's 10th anniversary. A "Nendoroid Wakusei" (Nendoroid Planet) digital catalog of the figures will be available as an iPhone application from late May to June.
Animenewsnetwork, Good Smile Company Mikatan Blog