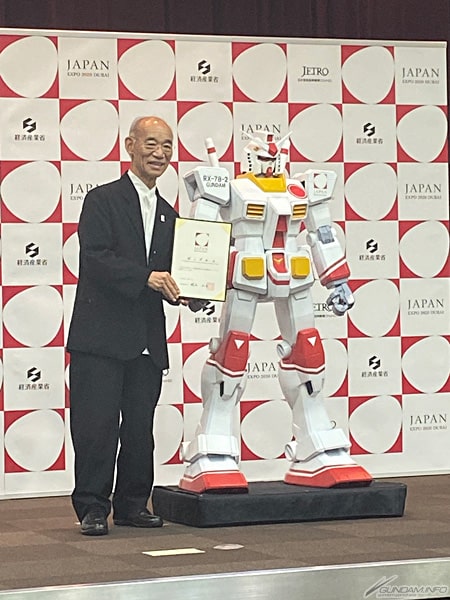 Dubai Expo will start on October 20, 2020!
The Japan Pavilion PR Ambassador includes Gundam, singer Kanjani Eight, astronaut Naoko Yamazaki, actress Tomomi Wakatsuki, singer-songwriter Tatsuo Kamon, Tokai University Takanawadai High School Appointment of 4 UAE students and 14 groups of 14 Pocket Monsters.
In addition to Gundam, Director Yoshiyuki Tomino will also be on stage at the "Ambassador Appointment Ceremony", which will receive an "approval" from the Minister of Economy, Trade and Industry.
Director Tomino said, "We are looking forward to seeing ourselves in the next century. "Thank you very much."
Director Tomino also responded to the interview: "I understand that being able to show the 20th century model of Gundam is a thrilling opportunity. Thanks to the fans for the last 40 years. Thanks to what we sent out from there, it has now gained worldwide support, and what this classic shape will look like toward the 21st and 22nd centuries. I'm excited that the place of Dubai is an amazing place, and that something new will be discovered. I think that incentives (stimulation to achieve the goal) will be generated by launching at the Dubai Expo.
In addition, the Dubai World Expo Japan Pavilion has begun recruiting "Japan Pavilion Supporters" to support the Japanese Pavilion.
You can register by simply sending a "no subject / text" email to the registration email address (supporter@expo2020.jp). For those who have registered as supporters, information about priority events for the events hosted by the Japan Pavilion and various campaigns will be sent in the future.
Also, the "Nihonkan Attendant" is scheduled to be recruited soon, so don't miss it.
For more information on the "Dubai Expo", please visit the official website of the "2020 Dubai International Exposition".
Gundam Comments
This year, Mobile Suit Gundam celebrated its 40th anniversary. In 2020, when we took the next step, we were appointed as the PR ambassador for the Japan Pavilion at the Dubai International Expo, and we have a lot of hope for new challenges. " Mobile Suit Gundam " is a stage setting in which the future of humanity is described with detailed description, intermingled with scientific proof, and a human drama in which characters are not simple right and wrong but hit their own principle claim is more popular than at the time of broadcasting With support, it is now popular not only in Japan but also overseas, and the age range of fans varies. As a Japan Pavilion PR Ambassador, I will do my best to be a bridge between people in the world and Japan.