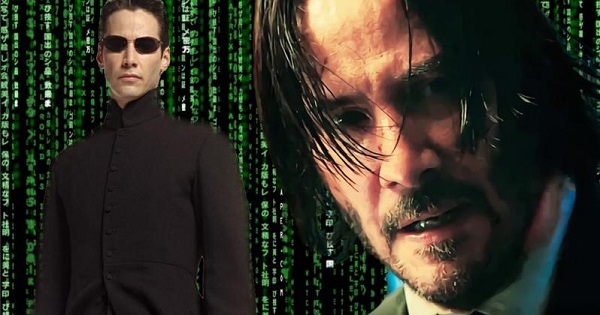 the movie will reunite Reeves with his Matrix trilogy co-star Carrie-Anne Moss, starring as Neo and Trinity
In news that would make The Matrix's chosen one Neo say 'woah', follow-ups to two of Keanu Reeves' major franchises are now scheduled to hit cinemas on the same day. Prior to Warner Bros.' announcement that The Matrix 4 will release on May 21, 2021, it was previously announced by Summit Entertainment and Lionsgate that the equally anticipated John Wick 4 will blast its way onto the big screen that same weekend.
So, the question remains, who will win in a face-off between the super-powered Neo and the head-shooting, pencil stabbing John Wick? The fact that the former can stop bullets is surely to Wick's detriment, but the stylish hitman does have a knack for being able to face-down impossible odds.
Hardly anything is yet known about the upcoming The Matrix 4, but it is something that fans have been crying out for, for some time, particularly in the wake of Keanu Reeves' recent popularity. We do know that the movie will reunite Reeves with his Matrix trilogy co-star Carrie-Anne Moss, starring as Neo and Trinity respectively, and that the two will once again be under the direction of a returning Lana Wachowski.
Wachowski will also serve as co-writer alongside David Mitchell and Aleksander Hemon, both of whom she worked with on Netflix's trippy sci-fi series Sense8. Joining Reeves and Moss are Aquaman star Yahya Abdul-Mateen II, Jessica Henwick, Neil Patrick Harris, Toby Onwumere and Jonathan Groff. Who these newcomers will be playing remains a mystery, but theories abound that Abdul-Mateen will be playing either a young Morpheus, or Morpheus' offspring.
Considering the huge opening weekend box office of John Wick: Chapter 3 – Parabellum, Summit Entertainment and Lionsgate wasted no time in confirming that John Wick 4 would indeed have Neo and co. in its sights with a planned release date of May 21, 2021. The third movie in the John Wick series, Parabellum became the highest grossing installment in the action franchise, bringing in more than $326 million at the worldwide box office. With such a solid base, it is likely that the fourth movie will not budge from this May release date, putting Keanu Reeves in the very, very rare position of having two tentpole movies opening together, essentially putting him in competition with himself.
Knowing the gentle, humble nature of the breathtaking actor that is Keanu Reeves, he would no doubt end up in an awkward scenario whereby both Reeveses tried to step aside to let the other Reeves through, trapping them in an endless cycle of politeness.
Whether the two movies will stick with this same release date remains to be seen, as neither is set in stone, and release dates do often move around. If they do stick with it though, which one are you seeing first, and who do you think will come out on top? This comes from Comicbook.com.