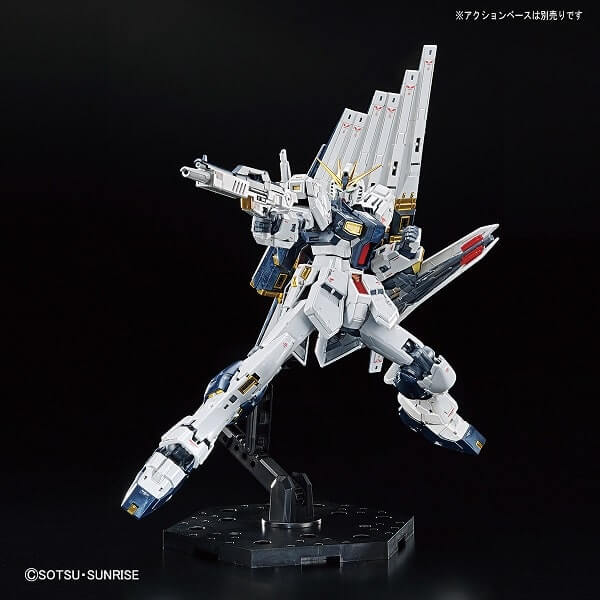 This is a limited Gunpla for the Gundam Base, an official Gunpla general facility for Gundam fans worldwide.
Price: 9,350 yen (10% tax included)
Tokyo Stock:-
Fukuoka Stock:-
Release Date: February 08, 2020
* It will be the release date on the Gundam base.
Product introduction:
The RG 1/144 ν Gundam, which boasts an overwhelming amount of information in outstanding mobility, is now available in a super-luxurious limited edition!
Titanium finish is applied to the white exterior to make it a very luxurious finish!
Semi-matte gold plating is applied to the blade antenna and chest parts for a magnificent finish!
Use metallic molding colors for internal frames and weapon parts!
Beautiful package design unique to limited items! It is a luxurious specification that expresses the sense of luxury and metal that the product has!
商品紹介
全世界のガンプラファンにむけた、公式ガンプラ総合施設「ガンダムベース」の限定ガンプラです。
抜群の可動に圧倒的な情報量を誇る、RG 1/144 νガンダムが、超豪華限定仕様になって登場!
■白色の外装にはチタニウムフィニッシュ加工を施し、非常に豪華な仕上がりに!
■ブレードアンテナ、胸部のパーツには半艶消し金メッキを施し、荘厳な仕上がりに!
■内部フレームや武器パーツにはメタリック成形色を使用!
■限定品ならではの美しいパッケージデザイン!商品の持つ高級感、金属感を表現した豪華仕様でございます!
価格:9,350円(税込 10%)
東京在庫: –
福岡在庫: –
発売日:2020年02月08日
※ガンダムベースでの発売予定日となります。
対象年齢:15歳以上
ブランド名:RG[リアルグレード]
作品:機動戦士ガンダム 逆襲のシャア