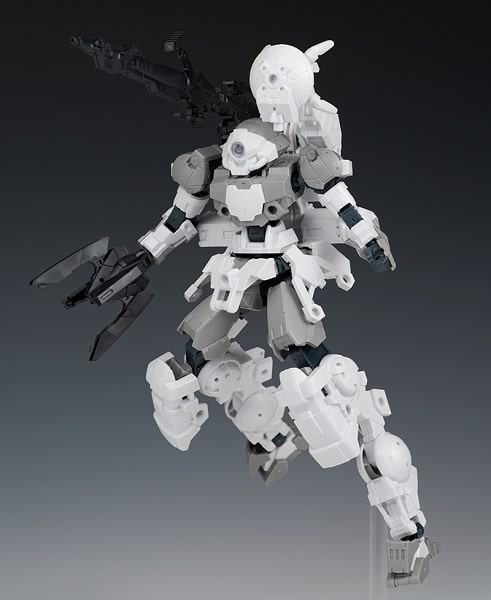 30 Minutes Missions is a Plastic Model line produced by Bandai Spirits, and it focuses on original mechas for the franchise.
Price: 1,980 Yen
Articulation:
Elbow joints can be bent up to 140 degrees.
Shoulder joints:
Raise up for upwards articulation.
Swing forward for frontwards articulation.
Waist can tilt frontwards, backwards (in a limited manner), or sideways.
The legs feature double-jointed knee parts.
Hip joints:
Tilt upwards/downwards on each piece.
Rotate on each thigh.
Pelvis joint can swing forwards or backwards.
Ankle joints can tilt.
As with all of the 30 Minutes Missions models, Portanova shares a similar rear mounting point from 2010's HG Gundam kits.
カラバリ続きだったポルタノヴァですがついに新規パーツをセットした宇宙仕様が発売されました。
価格は1,980円です。
以上30MM ポスタノヴァ(宇宙仕様)[グレー]レビューでした。
アルトに続きカラバリ以外の新規バリエーションがポルタノヴァに追加されました。
こちらは宇宙仕様という事で大型のバックパックや異形感のある脚部などが新規パーツで追加されています。
新規パーツもディテールは細かく、宇宙仕様という事でノズルのような造形も多数あり格好良い仕上がり。
また3mmジョイント以外にも肘膝の関節に対応したジョイントもあるためカスタムパーツにも便利になっていると思います。
これからアルトポルタノヴァ共に色々なバリエーションがどんどん出るようでこれからが楽しみですね。
30MM ポルタノヴァ(宇宙仕様)[グレー] レビュー
schizophonic9.com