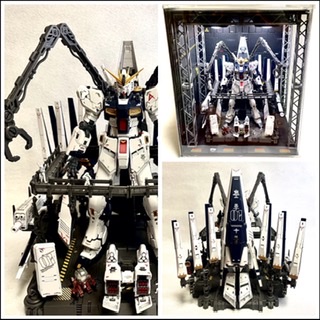 FinFunnel's RG 1/144 Nu Gundam system base display: images, info
The final chapter of the Nu Gundam trilogy. I tried to finish the system base like a hangar in the display case. Surrounded by a plastic board, pasted and painted with 100-yen items, a super easy custom. I tried to create an atmosphere with surplus decals. Color lighting can be produced from the outside by sticking 4 lights with remote control of 300 yen items with magnets. I never get tired of watching it.
I got it at a relatively low price on Yahoo Auctions. It was brand new but had some damage. It is dramatic to be able to display with the production shown by the heavy weapon system.
The back view is even more dramatic. Completeness like mobile armor with this alone.
Of course, it fits neatly in the case because it's a one-off.
You can enjoy various colors.
A commercial truss supports the ceiling with the light attached to the plastic board. Because the truss is expensive, even though it is a 100-yen item, it is 300 yen, so this alone is quite expensive. Occasionally lights up in response to TV remote control operations.
Work by FinFunnel