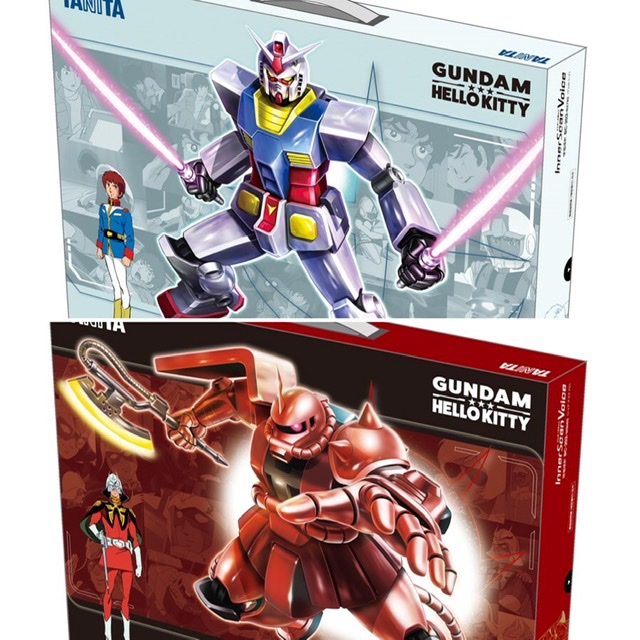 In the "Gundam & Hello Kitty of Love and Peace in 2020" project with a general health company, Tanita Co., Ltd., the launch of "Gundam & Hello Kitty Voice Body Composition Monitor" that navigates the operation method and measurement results using the voice of the character is decided  Then, from April 2 (Thursday), reservation acceptance has started at "Tanita Online Shop".

"Gundam & Hello Kitty Voice Body Composition Monitor" is a lineup of "Mobile Suit Gundam" hero "Amuroo Ray" model, rival "Char Aznable" model, and popular character "Hello Kitty" model. In addition to reading out the measurement results such as "weight," "body fat percentage," and "muscle mass" in the recorded voices of each character, it also supports the promotion of user health with judgment comments that use the name motif as a motif.
In each case, it will be reserved only for reservation and the price is 20,000 yen (excluding tax). Reservations will be accepted until Sunday, May 17, with shipments scheduled for the end of September.
For more details, check out the "Gundam & Hello Kitty Collaboration Body Composition Monitor" special site.
Improve your health while immersing yourself in the world of Mobile Suit Gundam. Can you survive (healthy)?
The "Amuro Ray" model is navigated by original voices by Toru Furuya, the role of Amuro. When the main unit is turned on, the sound of the beam rifle sounds and measurement starts. For example, in the judgment, if the muscle mass or basal metabolic rate is high, a comment such as "This muscle mass, my father is enthusiastic" is given in a line that fans will not understand.
The main body is based on white, reminiscent of the "Gundam" on which Amuro is boarding, and is designed with a large emblem of the Earth Federation Army.
 
 
 
 
The "Char Aznable" model contains the original sound by Shuichi Ikeda who plays the role of Char. When the main unit is turned on, the startup sound of the mono-eye sounds and the measurement starts. For example, if the visceral fat level is judged to be excessive, he commented on Charafan's irresistible words, such as "I do not want to admit, my own mistaken mistake of mistake".
The body is painted in metallic red with the motif of "Char's Zaku" on board, and has a large Zeon army emblem.
Both are items that allow you to work happily on health while immersing yourself in the world of Mobile Suit Gundam.
 
 
 
 
Hello Kitty supports health promotion. Motivated by gentle comments!
The "Hello Kitty" model navigates with Hello Kitty's original voice. If the body fat percentage is determined to be standard based on the measurement results, "You are very cute now! Let's keep it as it is" and if it is determined to be high, there is no way to lose weight immediately. I just have to do things. "
The main body is designed to be "adorable" with pink one-points based on pearl white with the image of "Kitty-chan who stretched a little". We propose health habits to work with Hello Kitty regardless of generation.
 
 
 
 
The measurement and display items for all three models are "weight", "body fat percentage", "BMI", "visceral fat level", "muscle mass", "basal metabolism", "body age", "estimated bone mass", and "body moisture percentage". The size is 352mm in width, 37mm in height, 300mm in depth, and weighs about 1.6kg (including batteries).
The power is turned on just by riding, and the operator is automatically identified, so that health checks can be easily performed every day without pressing any buttons.
Tanita Online Shop "Gundam & Hello Kitty @ Collaboration Body Composition Monitor" Special Site
⇒https: //shop.tanita.co.jp/gundam_kitty/