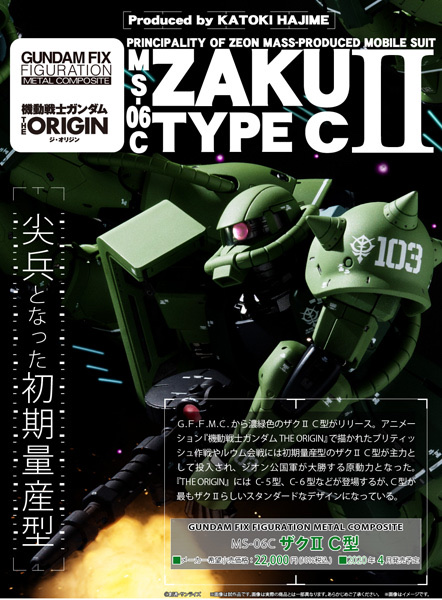 From the finished product model "GUNDAM FIX FIGURATION METAL COMPOSITE" that uses die-cast and ABS as main materials, "MS-06C Zaku II C type" will be released today on Wednesday, April 29.
This item has a new coloring and marking of "MS-06C Zaku II C type" appearing in "Mobile Suit Gundam THE ORIGIN" that stands side by side with "Char Zaku II" sold by the same brand under the supervision of Mr. Hajime Katoki.  Three-dimensional.
The chest part is a new model, and the head part can be replaced to reproduce the "captain machine" with an antenna or the "general machine" without an antenna.  The characteristic "green" is colored (except a part), and the weight and texture are produced by using die casting.
In addition, it comes with a variety of weapons, the B1 and B2 types can be replaced for the "Bazooka B type for MS", and the "magazine" can be suspended on the right shoulder shield.  You can enjoy your favorite aircraft number with the attached decal sticker.
GUNDAM FIX FIGURATION METAL COMPOSITE MS-06C Zaku II C type
Price: 22,000 yen (tax included)
Release date: April 29, 2020 (Wednesday / holiday)