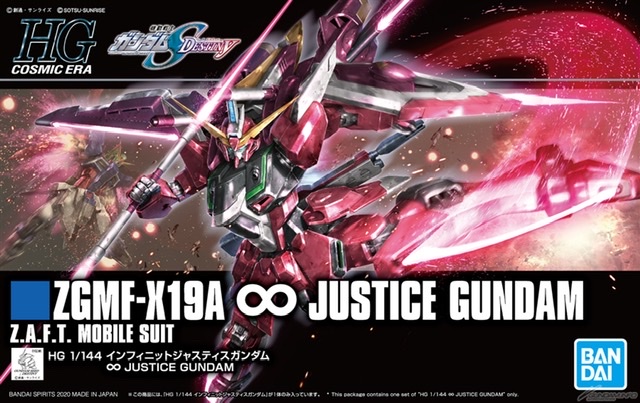 "HGCE 1/144 Infinite Justice Gundam" will be released on May 23, 2020.
Product information
"∞ Justice Gundam" from "Mobile Suit Gundam SEED DESTINY" appears in the latest HG format!
■ The waist has an internal structure that allows it to expand its range of motion and hold its posing.
■ Both wings are equipped with a movable gimmick so that they can warp, allowing you to reproduce the silhouette during aerial battle.
■ Introducing a gimmick that expands the range of motion of the hip joint to reproduce the posing unique to the SEED series.
■ Various beam effects are included.
■ Reproduce each form of beam carry shield.  Beam effect and beam shield are reproduced with clear parts.  Lead wire included.
【accessories】
■ High energy beam rifle x1
■ Beam saber (single state) x 2
■ Beam saber (connected state) x 1
■ Beam carry shield x 1
■ Beam shield effect x 1
■ Beam boomerang effect x 1
■ Gryphon beam blade effect x 2
■ Gryphon Beam 2 Blade Effect x 2
■ Foil seal x 1
■ Lead wire x 1
□ Price: 2,420 yen (tax 10% included)