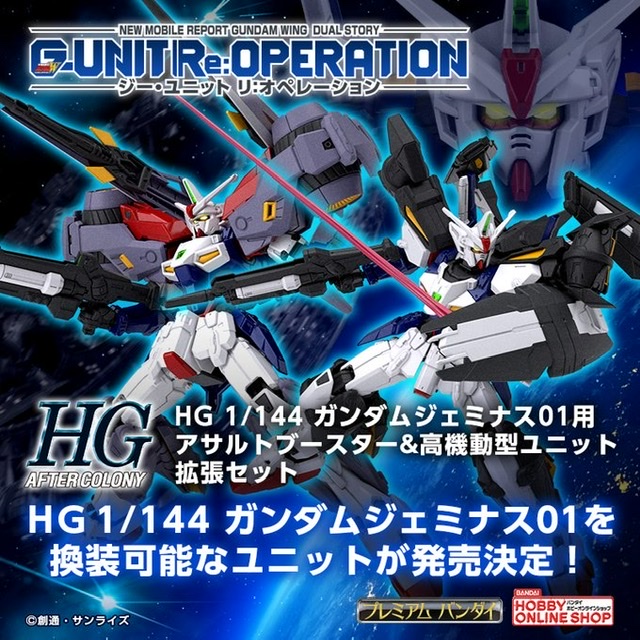 Premium Bandai has decided to release HG 1/144 Gundam Geminass 01 Assault Booster and High Mobility Unit. FULL ENG INFO, images
From the new Mobile Suit Gundam Wing Gaiden work "G-UNIT", the MS "G-UNIT" series featuring a conversion mechanism (linear lock bolt) is developed in the latest HG format.
The original mechanical designer Akutsu has redesigned the design, and under the supervision of Mr. Akutsu, the "G-UNIT" mobile suit, including the Gundam Geminass 01, and a conversion unit have been three-dimensionalized.
The new world of "G-UNIT" is in your hands.
"New Mobile Report Gundam W DUAL STORY G-UNIT"
~ Prototype MS "G-UNIT" around A.C.
Gaiden work from "New Mobile Report Gundam Wing"
It is a Gaiden of the TV animation "New Mobile Report Gundam W" that started in 1995, and a media mix work that has been developed since 1997 in plastic models, model magazines, comics, etc. As with the main story of "W", in the world satellite of AC (after colony) 195, in the remote satellite city "MO-V", the Gundam "G-UNIT" is different from the five Gundams in "New Mobile Report Gundam W" The activity of "is drawn.
The comic is serialized in Comic Bonbon as "New Mobile Report Gundam W DUAL STORY G-UNIT" (written by Koichi Tokita). ] (Kodansha) (Author, Koichi Tokita) serialized in "Gundam Ace" (KADOKAWA). In 1997, when comics were serialized, five mobile suits such as the main character Gundam Geminass 01 and Gundam Aesculapius were released as 1/144 scale Gunpla.
Then, in the 2020 hobby online shop, the "G-UNIT Re: OPERATION" project has started and is about to make a new development.
ABOUT
What is G-UNIT
~ By advanced replacement mechanism
MS series aiming to support all areas
Prototype mobile suit series originally developed by the Frontier Resources Satellite MO-V. Unlike the Gundam type 5 aircraft, which has its own characteristics for fighting battles and artillery battles, the body part is the core part, and the electromagnetic drive type replacement mechanism that can quickly replace each part such as the head, arms and legs Characterized by (linear lock bolt). In fact, the G-UNIT series aircraft are equipped with units for ground, space, high maneuverability, etc. according to the battle situation and operation, and have excellent versatility and expandability that can replace parts on each battlefield. Had been won.
The main aircraft in the G-UNIT series are the Gundam Geminass 01 and the Gundam Aesculapius which is a Geminass 02 modified by OZ Since common standards were used for the aircraft between G-UNIT series, it is possible to share and replace parts of each aircraft, and even in the actual battlefield, it was said that repairs and replacement of parts using multiple parts were performed There is a record of.
Original mechanical designer Akutsu talks
New Age Gundam Geminass 01
With regard to G-UNIT, at the beginning of the project, it was in a state where it was not possible to determine which worldview the work originated from. Therefore, it was designed as a completely different system that does not look like any MS in the world view.
In this commercialization, we have restructured it in a sense from the standpoint of Gaiden in "New Mobile Report Gundam Wing". The form is also slim as it is close to the Endless Waltz.
This may be different, but if you like the old G-UNIT, please use the old kit. For those who have entered the "SD Gundam G-Generation Series" or a new cartoon, I hope that you will be able to experience this kit, which has the same form as the Wing Gundam. Of course, I also want people who have loved it for a long time to come in contact with it.
In that sense, the action scenes in the "SD Gundam G Generation Series" are so wonderful that I can only thank them for giving life to the characters without animation. I would be happy if people who fell in love with it would be interested, "What is G-UNIT?"
Gundam Geminus 01 Original Mechanical Designer
Junichi Akutsu