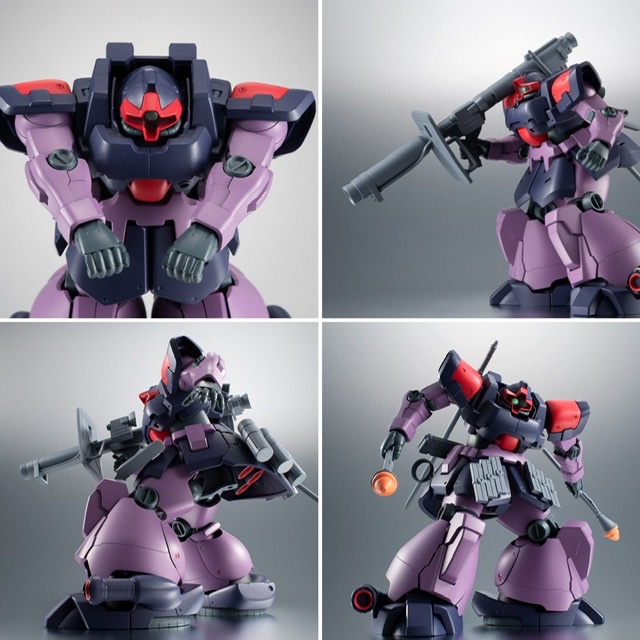 BANDAI Release on June 11, 2020: ROBOT Spirits MS-09F / TROP DOM TROPEN VER. A.N.I.M.E. 7,000YEN
ROBOT SPIRITS Dom Tropen Ver. A.N.I.M.E.
MS Dom Tropen, the main remnant of the Zeon Principality that attacked Torrington base with heavy armament and high mobility, appeared in ver.A.N.I.M.E. with a wide range of movement and various equipment variations!
Redesigned based on the operation results of the Dom Tropical Test Type to enhance local mobility by hovercraft.
It was deployed mainly on the North African Front as a local mecha with a tropical name.
During the conflict in Dellers, he attacked Torrington base, defended the Kimberlite Mine, and other various battlefields.
■ A.N.I.M.E.-Movable
The pull-out shoulder joint naturally reproduces the inward movement of the arm.
A range of motion that allows a variety of poses, such as forward bending of the upper body and warp of the neck.
Stable movement is achieved by retracting the legs to the calves.
The mono eye can be moved vertically and horizontally.
■ A.N.I.M.E.- Option
Equipped with heat saber, racen buzz, MMP-80 machine gun, Sturm Faust.  Various spare magazines are attached, and various scenes such as heavy equipment during assault can be reproduced along with various replacement wrists.  There are 2 points on the front skirt and 4 points on the rear skirt for suspension.  Various spare magazines, Sturm Faust, etc. can be attached freely.
Sturm Faust reproduces the equipment state by the holder.
■ A.N.I.M.E.-Link
"ROBOT soul <SIDE MS> Char's Zaku ver. A.N.I.ME."
The Vernier effect included in the "ROBOT soul ver. A.N.I.M.E." series (sold separately) can be attached.
■ Product specifications
Overall height: about 130 mm
Material: ABS, PVC
■ Set contents
・ Main body
・ Replacement wrist left and right 5 each
・ Heat saber blade (for storage)
・ Heat saber blade (for light emission)
・ Heat saber grip
・ Fixing heat saber grip
・ Raketen Buzz
・ Buzz spare magazine left and right
・ MMP-80 machine gun
・ Machine gun spare magazine left and right
・ Sturm Faust × 2
・ Sturm / Faust holder, left and right, 2 types each
・ Zaku Bazooka spare shell case left and right
・ Wrist storage deck
・ A set of various joints