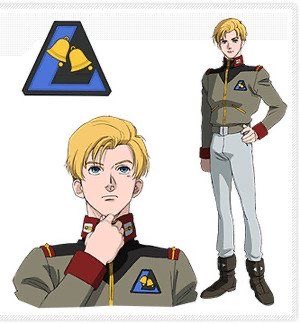 Manga's compiled volume ships on July 27
The July issue of Kadokawa's Gundam Ace magazine published the final chapter of Harutoshi Fukui and Hiroyuki Tamakoshi's Kidō Senshi Gundam UC: Shishi no Kikan (Return of the Lion) manga on Tuesday. The manga's one compiled book volume will ship on July 27.
The manga centers on the "return" of the character Riddhe Marcenas (pictured at right) from the Mobile Suit Gundam Unicorn light novel and OVA series. Novel writer Harutoshi Fukui wrote the story, and Hiroyuki Tamakoshi (Boys Be… artist) drew the manga. Yoshikazu Yasuhiko was credited as the original character designer, Hajime Katoki was credited with the mechanical design, and Yoshiyuki Tomino and Hajime Yatate were credited with the original work. The manga launched in Gundam Ace last November.
Source: Gundam Ace July issue