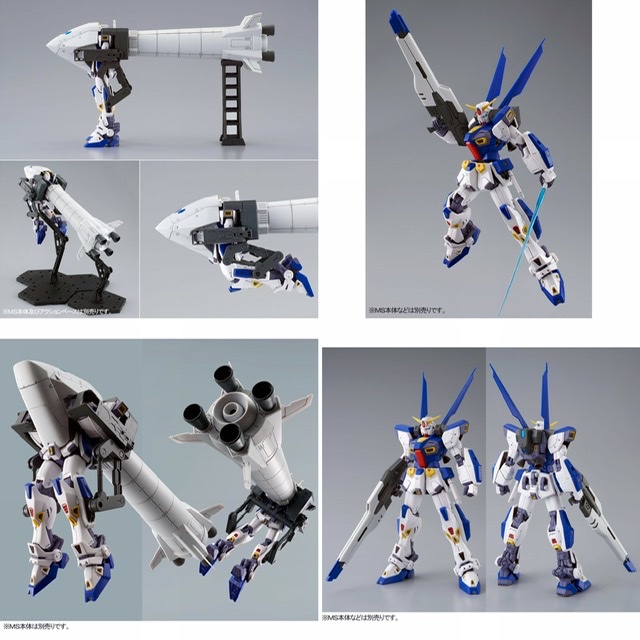 Mission Pack O/U Type for MG Gundam F90: images, info
Sales price 2,200 yen (tax included)
Acquisition points 22P
Reservation acceptance started 17:00 on June 17, 2020
Delivery date Scheduled to be shipped in September 2020
Jointly with the "MG 1/100 Gundam F90" (sold separately), a mission pack that can reproduce the commander specification O type and atmosphere departure specification U type comes up!
* The MS body is not included in this product.
*This product and "MG 1/100 Gundam F90" (sold separately/Premium Bandai sales item) are required to reproduce the photos shown.
A mission pack developed for the prototype MS Gundam F90 of the "formula plan" by Sanary (SNRI),
O type and U type are completely new molding and now available in master grade!
<2 types of mission packs can be reproduced!  >
● Commander-specific O (officer) type
A new mission pack created by Kunio Okawara in the F90 A to Z PROJECT.
-Reproduced with new molding the commander specification characterized by a large blade antenna equipped on the backpack and a reinforced rifle.
Balkan pod / large blade antenna
-Reproduce the armed balkan pod and large blade antenna equipped on the backpack.
Waist/beam saber rack
-Reproduce the beam saber rack relocated from the backpack to the left side armor.
Reinforced rifle
-Equipped with a telescopic gimmick, it is possible to reproduce the normal state and high output state.
Furthermore, the energy pack at the rear of the rifle can be removed.
● U (uplift) type with out-of-atmosphere specifications
Like the O type, a new mission pack drawn by Kunio Okawara.
-A super-large booster, a frame that locks each part of the aircraft, and a fairing cover are three-dimensionalized with new molding.  Large volume with a total length of about 30 cm.
Super large booster
-Three-dimensional booster integrated with a large propellant tank.
With the attached display stand, it can be displayed with the propellant tank installed.
∙ Each part frame / fairing cover
-Reproduce the frame that fixes each part of the aircraft and the fairing cover that protects it.
-The frame for the lower body lock that connects to the legs can be moved at 4 points.
● Water transfer type decal is included.
Includes water transfer decal including original marking.
Set contents: O type equipment complete set / U type equipment complete set
*This product does not include the MS body.
*This product includes only "Mission Pack O type & U type".