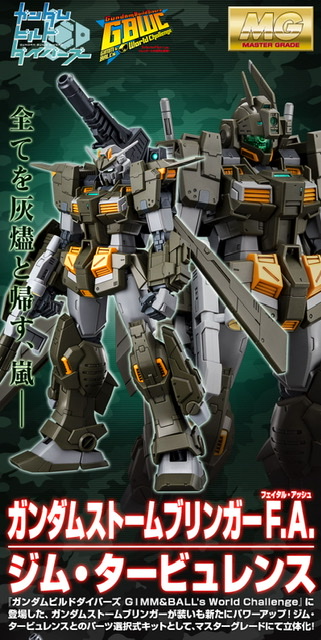 MG Gundam Storm Bringer GM Turbulence: images
MG 1/100 ガンダムストームブリンガー F.A.(フェイタル・アッシュ)/ジム・タービュレンス
MG Gundam Storm Bringer, which appeared in "Gundam Build Divers GIMM & BALL's World Challenge", also has a new appearance as FA (Fatal Ash).  GM Turbulence can also be reproduced by selection.
The characteristic backpack is a new molding.
·Backpack
The precision aiming system on the upper left and the 360 ​​mm rocket gun break on the upper right are reproduced with new modeling.
The cannon can move up and down at the connection
GM Turbulence, the conventional model of Gundam Storm Bringer, with new molding on the head and shoulders.
·head
Precisely reproduces the mechanical shape provided on the left with new molding.
・Shoulder
Reproduced using new parts the shape without the blade protruding to the side before it was repaired to Gundam Storm Bringer.
● A newly designed water transfer decal is included!
Attached armament: 360mm rocket gun modified / Double beam cannon / Beam saber
Sales price 6,270 yen (tax included)
Acquisition points 62P
Reservation acceptance start 13:00 on August 6, 2020
Delivery date Scheduled to be shipped in November 2020