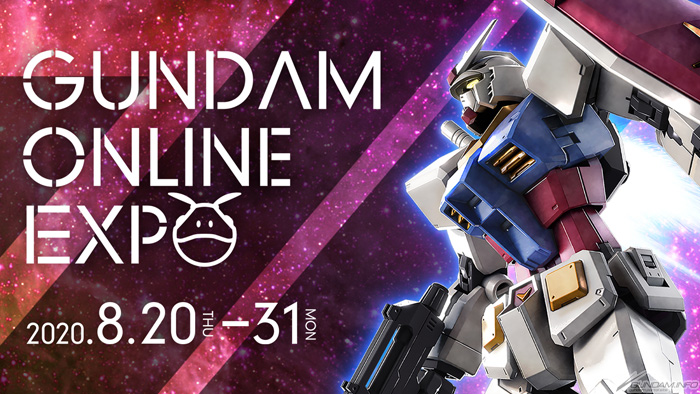 First Gundam Online Expo in USA: Full info
It has been decided that the first Gundam online event "GUNDAM ONLINE EXPO" in the United States will be held for 12 days from Thursday, August 20th to Monday, August 31st.
The event is sponsored by BANDAI NAMCO Collectibles (Bluefin) and participated by BANDAI NAMCO Group companies and Sunrise.
Including more than 60 event limited items that were previously unavailable in the United States, including limited items of the Gundam base facility "THE GUNDAM BASE", event limited items are also sold at "Premium Bandai USA"  ..  Reservations will be accepted for "Group A" starting at 18:00 on Friday, August 21 and "Group B" starting at 18:00 on Sunday, 23rd.
At "GUNDAM ONLINE EXPO", you can experience as if you were visiting "THE GUNDAM BASE TOKYO".  You can virtually visit the special exhibition "GUNPLA WORLD Ver.MG" in commemoration of the 40th anniversary of Gunpla, which is currently held in Gundam Base Tokyo, and enjoy the "MG" series of Gunpla exhibits.
In addition, special video contents such as explanations of painting techniques by expert Kawaguchi, interviews with Japanese guests and panel discussions will be held.
Outline of the GUNDAM ONLINE EXPO
Event name:
GUNDAM ONLINE EXPO
Session:
August 20th (Thursday) to 31st (Monday), 2020
Event Official Site
en gundam info/onlineexpo/
Highlights of the exhibition:
MG Lineup Exhibit:
The MG series lineup celebrating its 25th anniversary this year is gathered together.
GUNPLA Evolution History:
History of Gunpla evolution.  Exhibiting valuable materials from the Bandai Hobby Center that produces Gunpla.
Giant GUNPLA Timeline:
The 40-year history of Gundam and Gundam is summarized.
Package In-depth Analysis: Detailed analysis of Gunpla packages.  Close up on how to create a package.
Modeler Masterpiece Exhibit:
An exhibition of "MG" masterpieces by prominent modelers.
Reveal of the Latest MGEX Brand:
Introducing the latest item, "MGEX Unicorn Gundam Ver.Ka".