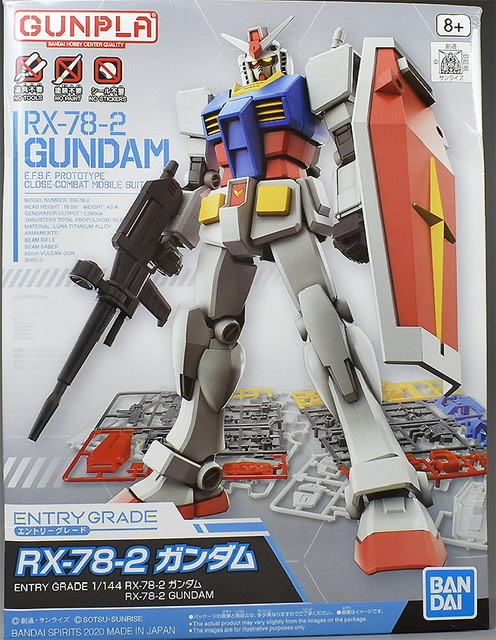 Entry Grade / Revive RX-78-2 Gundam Reviews
ENTRY GRADE RX-78-2 Gundam is a 1/144 scale model kit of the protagonist "RX-78-2 Gundam" that appears in "Mobile Suit Gundam".  It is a plastic model kit that allows all users, such as "first-timers who touch gunpla", "people who make gunpla after a long time" and "people who love gunpla" to experience a new sense of assembly.  The price is 770 yen (tax included).
RX-78-2 Gundam is a kit with the next-generation "ENTRY GRADE (EG) series" that realizes "easy assembly × high quality coexistence enabled by 40 years of technology".  It is a kit that allows you to complete an elaborate gunpla while being easily assembled.  Gundam Base Tokyo/Fukuoka pre-sale product.
The kit does not require tools, paint or seals, and parts can be manually separated from the runner.  It is good to consider the strength of the parts so that they will not be damaged even if they are separated by hand.
All are composed of PS material parts, no polycap or KPS material are used.
Let's take a look at each part while making a side-by-side comparison with the HGUC RX-78-2 Gundam (REVIVE)
I think it is a highly efficient gunpla that pursues ease of assembly while ensuring a high range of motion.  The parts are considerably simplified so that you can assemble them in no time, and the finish is as good as HGUC.  No nippers or tweezers are needed, so it's the perfect gunpla for those who find it difficult to assemble even with the HG.
On the downside, the structure is simple, so you can partially check the seams and lightening holes.  I am a little worried that there is a gap in the abdomen, but at this price, I think that much should be seen.
You can pose more naturally than you think, and you have a high degree of freedom in posing, and you will be fascinated by its beauty.  I am again impressed by the evolution of Gunpla and it was better than expected.  With this quality, I would like to expect other gunpla to be kitted with this EG series.
Images: gundamsblog net