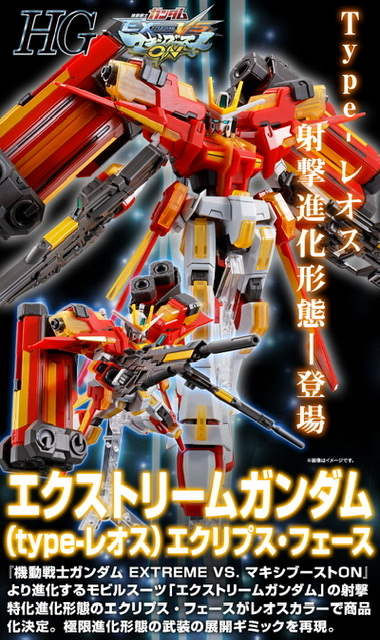 HG 1/144 Extreme Gundam (type-Leos) Eclipse Face: images, info release
Selling price 2,970 yen (tax included)
Earn points 29P
Reservation acceptance starts October 20, 2020 13:00
Delivery date Scheduled to be shipped in March 2021
t y p e – Leos
Shooting Advancement Form-Birth.
From the game "Mobile Suit Gundam EXTREME VS. Maxi Boost ON"
Head
The version has been upgraded to make it more like the game.
back
Reproduce the "Eclipse Cluster" and "Carnage Striker" equipped on the back.
-Reproduce various armed gimmicks
"Variable Psycho Rifle" and "Carnage Striker" are equipped with a connection / deployment gimmick.
Variable psycho rifle
The cross-buster mode can be reproduced by connecting the two rifles. It is possible to make a shooting pose with the attached dedicated wrist.
Carnage striker
The carnage striker can be deployed to reproduce a long artillery form.
Extreme Gundam armament is included
Includes shield and rifle.
armament: Variable Psycho Rifle / Blaster Cannon / Eclipse Cluster / Carnage Striker / Beam Rifle / Shield
Accessories: Display stand Subject to change without notice.