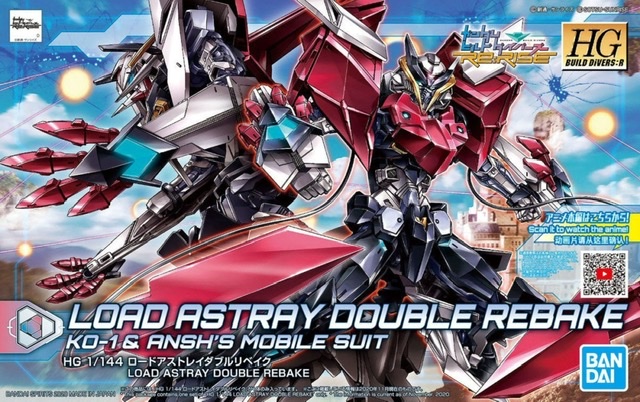 Update: HGBD:R Load Astray Double Rebake. Images and info
HGBD: R 1/144 Load Astray Double Rebake
19 November release – 2,200 Yen
"Gundam Build Divers Re: RISE" Load Astray Double Rebake from 2nd Season is here!
Beam parts can be attached to the armor of both arms.
Weapons using the attached lead wire are also installed.
The rifle is removable from the main body.
Equipped with a hidden transformation function.
accessories
Dedicated pedestal x 1
Lead wire x 2
Beam parts (large, small) x 2
Foil seal x 1
A Gunpla made jointly by Koichi and Tsukasa. Through a mode change, the Cuadro mode that is mainly for shooting and piloted by Koichi can be switched to the Reverso mode that is specialized for melee combat and piloted by Tsukasa. Thus, even though it is a single machine, it can use completely different battle styles against its opponent.
* The Load Astray Double Rebake's Reverso form resembles the Knightmare Frame in Code Geass.
* Its design and ability to shift between two forms are similar to OZX-GU0403SR Gundam Scuri/OZX-GU0304DZ Gundam De:OZ.
* Its ability to shift between two forms, mainly by turning around, is similar to CB-0000G/C Reborns Gundam.