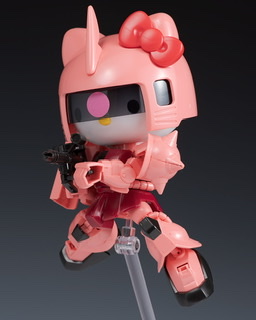 Hello Kitty, which was previously kitted with EX Standard Gundam
It has been re-kitted with Char's Zaku II specifications. Here is the Review
The price is 2,750 yen.
This is the Hello Kitty / Char exclusive Zaku II [SD Gundam Cross Silhouette] review.
With the same content as the previously released EX Standard Gundam version
Hello Kitty and Char's Zaku II are set and there is also a united gimmick that exchanges parts with each other
It is a unique collaboration kit.
Since Char's Zaku has changed from EX standard to SDCS specifications, the seal is about a mono eye or a sensor.
Weapons etc. are also nicely finished and more balanced
On the other hand, since it only comes with an SD frame, it may not move as much as the EX standard.
However, although there is a difference in proportions for that, the movable range can be solved by using the CS frame.
It is a fun kit.