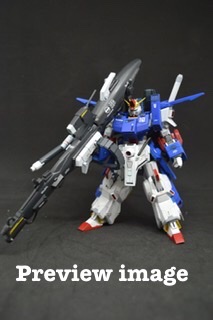 A kitbash custom build made from the old 1/144 Full Armor ZZ and HGUC 1/144 ZZ Gundam.
From the Modeler:
The armor is attached by 3mm magnet. for the panel line i used 0.1mm, 0.2mm, and 0.5mm chisel.
For the color i used the mr color character blue for the blue parts, mr color character blue(60%)+black(40%) for the darker blue paint, gaia pure white for the white part, gaia pure white (70%)+black(30%) for the darker white paint, mr color blue(40%)+black(60%) for the backpack color, and mr color engine gray for the joints.
i used the arm inner frame of HG Graze Ritter to connect the hyper mega cannon to the backpack. i am quiet happy with the result and i think it looks good that it can easily detach all of the armor to be the enhanced zz gundam
Work by nikomark21
Images sent via email