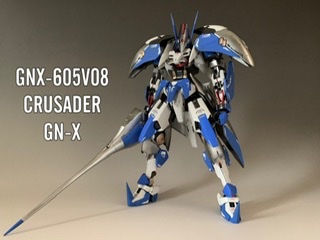 Amazing Mixing Build: MG Crusader GN-X. Images and full info
From the Modeler:
I tried to make a high mobility type
(commander machine) that might have been a mixing by GN-X and Grimgerde.
Weapons name:
FARAN-X
Proto GN Lance Development Weapon
Instead of becoming large and difficult to handle, the piercing effect of the GN field has increased dramatically.
Instead of compensating for the poor maneuverability, there is one GN Balkan on each side, which is mainly used for checking.
The armor on the shoulder is not as good as the original solar furnace-mounted aircraft, but it has a built-in device to generate the GN field, and a few beams.
It is designed to prevent direct hits
In addition, the composite unit on the head is linked with the sensor of the GN-X body, and it is a support system to accurately attack only the enemy aircraft without involving the ally aircraft when handling a long lance.
In addition to the GN drive at the rear, there was only one GN thruster in the rear skirt part if it was a general machine, but in this machine one is added to the rear of the shoulder.
This has two effects: improving the piercing force when handling Faran-X, which is the main weapon of this machine, and improving the avoidance ability by AMBAC.
Sub-armed
GN pistol "Hudson" "Hornet"
Store one in each lumbar rear armor
By exchanging magazines, it has become a weapon that can fire both beams and live ammunition through the manipulator.
Although the range is short, it is overwhelmingly effective when used in combination with the beam saber built into the thigh when the missile is restrained and the lance cannot handle it during close quarters combat.
In addition, even in the state of particle deficiency after Trans-Am, it is possible to respond with live ammunition, so it is possible to respond flexibly.
Before remodeling:
I had a plan to mix it with Grimgerde from the beginning
The silhouette was almost completed in the early days, and it feels like I've been digging into the details from here.
Armed plan
Around this time, I was assuming a dual wield style like Attack on Titan Levi, but since it became a knight-like style, I suddenly changed to Lance.
Finally, the photo before painting!
The most difficult thing was the color scheme.
The color scheme has arrived at the original desire to bring out originality without losing the GN-X-ness.
Thank you for watching till the end!
Work by OOKIDOHIIRAGI (twitter account)