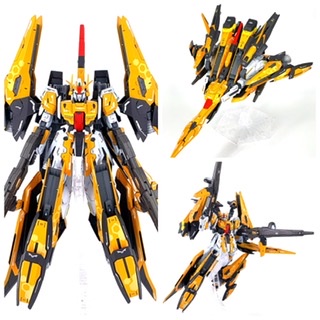 Mixing Build HGUC GN-Zeta Gundam: many images, full info and credits
GN-Z (GN-Zeta) completed.
What if the Zeta Gundam is equipped with a GN drive?
The silhouette is based on the image of the Gundam Harute final battle specification and Hummingbird.
This time, I challenged coloring, hex camouflage, and line decals that I had never done before.
The image behind was only a black background.
You can fold the long beam rifle to make it look like a beam machine gun.
It can hardly be moved. And legs are heavy.
Equipped with a mega particle cannon at the base of the claw of the GN shield
Wave rider form. The replacement parts included in the kit have been modified to allow forcible deformation. It has become longer due to the GN shield of Kyrios.
Back image. It is a mysterious setting that GN particles are ejected from each vernier by installing the GN drive.
From here on, the manufacturing process
Making fins with back closures and plastic boards
Details have been improved with plastic boards and streaks here and there.
Work by プリン