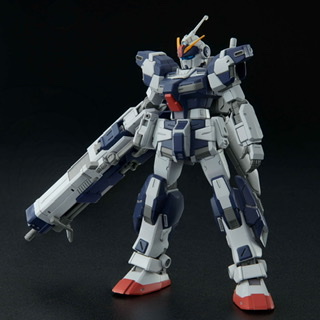 Orders for "HG 1/144 Pale Rider Cavalry" will begin at 13:00 on December 16, 2020 at Premium Bandai's Hobby Online Shop.
The RX-80PR-2 Pale Rider Cavalry is a prototype mobile suit that is featured in the Mobile Suit Gundam Side Story: Missing Link manga series.
Selling price 2,420 yen (tax included)
Earn points 24P
Reservation acceptance starts December 16, 2020 13:00
Delivery date Scheduled to be shipped in April 2021
Armaments:
Vulcan Gun
A pair of shell firing weapons, they have high-rate of fire, but little power. They can damage lightly armored areas such as the sensors and are ideal for shooting down small, lightly armored targets such as missiles, attack vehicles, etc. Like the original RX-80PR Pale Rider, the Pale Rider Cavalry's vulcan guns seem to be mounted independently on the sides of the head.
Beam Saber
The beam saber is a small device held in the mobile suit's hands when operated and is powered by a rechargeable energy capacitor. It emits a blade-shaped beam to cut through most armor not treated with anti-beam coating. Two are stored on the sides of the backpack.
Beam Javelin
A handheld close combat weapon with a long handle that emits a three-pronged beam at the end. The long reach of the weapon provides an advantage in close quarters combat.
Composite Weapon "Shekinah"
The Composite Weapon "Shekinah" combines three different weapons into one piece of equipment: a giant gatling gun, a mega beam launcher, and a micro missile launcher. With this weapon's versatility, the Pale Rider Cavalry can handle various combat situation, from close-range engagements that commands high mobility to long-range shelling.
Giant Gatling Gun
Mounted on the bottom of the Shekinah, this multi-barreled rotary cannon has a high firing rate. 
Mega Beam Launcher
A mega particle cannon mounted on the Shekinah. It fires a high output particle beam that can eaily penetrate enemy's armor. 
Micro Missile Launcher
Mounted on the top of the Shekinah, it fire volleys of micro missiles.
Special Equipment:
HADES
An acronym for HYPER ANIMOSITY DETECT ESTIMATE SYSTEM. This controversial system was created by a top secret research laboratory in Augusta based on data and samples of the EXAM System provided under pressure from the upper management. Like the system used by the original RX-80PR Pale Rider, activation of the HADES improves the unit's performance. However, the Pale Rider Cavalry's HADES has a limiter to limit its operating time and is tunned down to suit normal pilots.