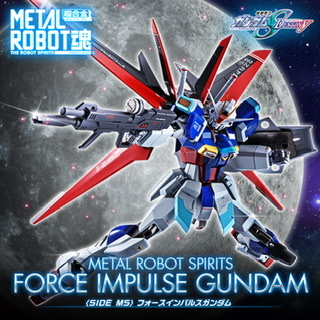 METAL ROBOT Spirits Force Impulse Gundam to be released in stores in May 2021: new images, info
In May 2021, "METAL ROBOT Spirits Force Impulse Gundam" will be released.
Description of item
"Mobile Suit Gundam SEED DESTINY" Force Impulse Gundam appears in the METAL ROBOT Spirits Series.
A luxurious finish with coloring and die-casting throughout the body.
Product details
Thorough reproduction of the impression in the play with overwhelming movable performance.
Due to the wide range of motion of the force silhouette, it is possible to reproduce the silhouette of the wings spreading in four directions, which could not be reproduced with conventional three-dimensional objects.
A lot of new modeling parts are adopted. In particular, by renewing the shape of the head, the impression in the play is thoroughly approached.
Die-casting is used for various parts of the body, centering on the joints.
Most parts of the exterior are painted. High-density finish with various coloring techniques.
Includes 2 folding razor anti-armor knives.
Includes mobile mantlet and high energy beam rifle.
A dedicated pedestal is attached and can be displayed in flight.
The laser anti-ship sword can be combined with the "METAL ROBOT spirits Freedom Gundam sold separately, which is being ordered at Tamashii Web Shop, to reproduce the shooting down scene.
Product details
Overall height: Approximately 140 mm
Material: ABS, PVC, die-cast
Set contents
・ Main body
・ Replacement wrist left and right 3 types each
・ Mobile mantlet
・ High energy beam rifle
・ Folding razor vs. armor knife x 2
・ Force silhouette
・ A set of dedicated pedestals
・ Joint parts for the soul stage
・ Beam saber effect x 2
・ Laser anti-ship sword (Freedom Gundam shot down Ver.)
・ A set of effect parts for laser anti-ship sword
Price: 14,300 yen (tax 10% included)