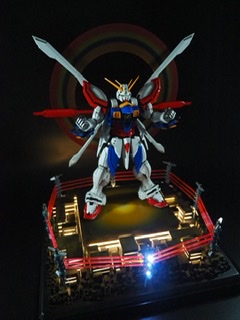 1/100 God Gundam Diorama: full info, images
From the Modeler:
Get up and don't be afraid of anything
The sky burns
The world screams
Ah Gundam
It will be the last work of this year
Remodel each part based on the high resolution God Gundam
The pedestal was created from scratch with the image of the buildings in the title sequence of Mobile Fighter G Gundam Late OP.
Illuminates and the corner posts also shine
I made it with a lot of energy because it is the last work of this year, so please have a look.
Info:
Small modification of the head based on the old 1/100
Hand parts are full scratch
Change the shape of the thigh with putty
Front armor is modified to bring it closer to the image
back
Recreated by trimming the shape including the fin holes
Neodymium is prepared and modified so that it can be installed without modifying the sun wheel effect.
Full scratch
Create a building from plastic boards
Corner posts are made from plastic pipes
Colored with gradation by enamel weathering too
40 illuminated locations
Remodeled based on MG upgrade parts, processed for hi resolution
Work by yamacloth (Twitter account)