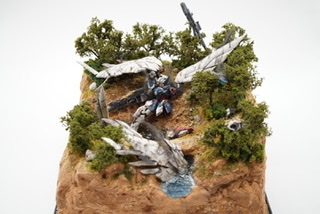 Diorama: RG Wing Gundam Zero EW "Angel's Sunset" images, info
From the Modeler:
Image after Wing Zero crashed
If you reproduce the damaged part, the face will disappear, so it is an image rather than a reproduction. (This is a scene that is not in the main story.)
In the main story, the face and below the right knee are blown away, and it falls on the flat ground, but I thought that it would not be a picture, so I made it with the "what if".
I was reluctant to put a blade in the Gunpla, but when it comes to doing it, it becomes a slapstick.
I also wanted to learn the expression of damage.
I enjoyed the terrain creation.
The expression of the soil was the most enjoyable, and the more I modified it, the more it became like that.
Used mainly for N gauge materials.
The tree is made by sprinkling powder on a commercially available trunk kit with one block of branches.
I made a river because I really wanted to add water expression. The legs are submerged.
Work by ちょろぺん
aka: chro_pla on Twitter