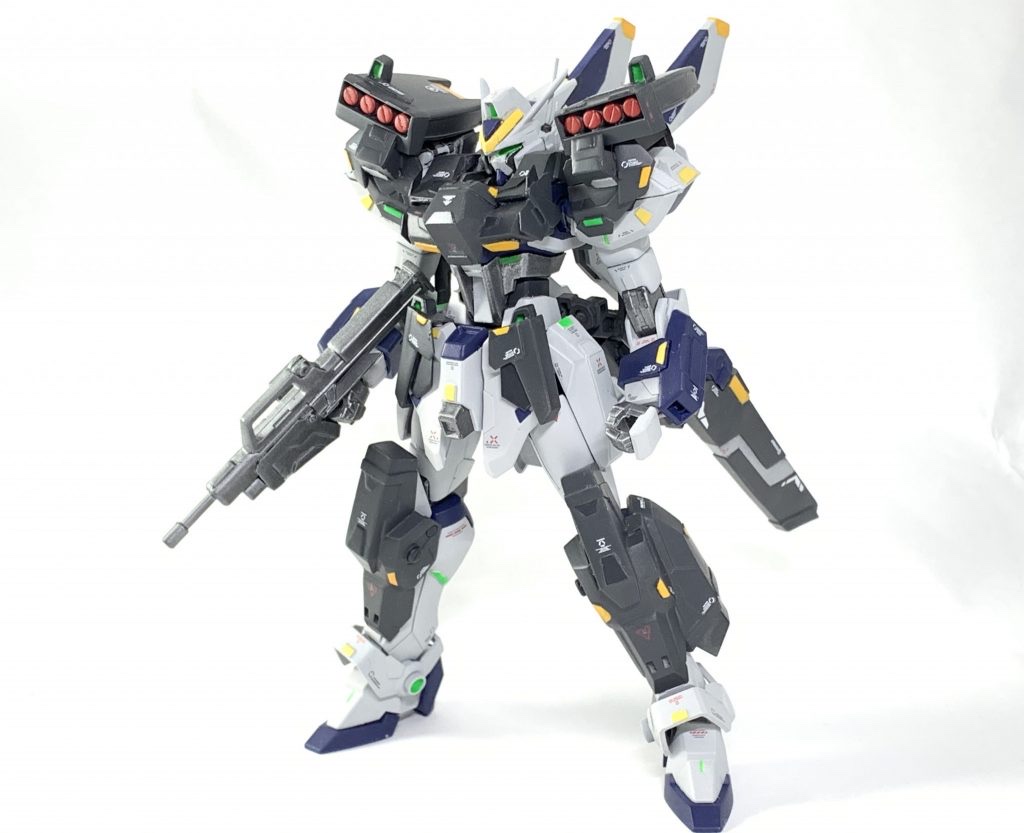 Semi scratch / custom: HGCE Arsenal Windam. Images, info
From the Modeler:
Official name ウィンダムE1型 フォルテストラ装備 "Windam E1 type fortestra equipment". Windam minor change prototype E1 type equipped with the Earth Alliance's increased armor system, Fortestra. It is commonly known as "Arsenal Windam".
Equipped with a machine gun that uses new bullets as the main weapon. It is a specification specialized for attacks on general mass-produced machines and ships that do not have PS armor, and it is possible to give effective hits to anti-beam defense weapons such as anti-beam shield and laminated armor.
"Schwert Geber 2S vs. MS battle sword". A short model of the Schwert Geber 2 which is an improved version of the Schwert Geber. Although the reach has been shortened, the ease of handling has been greatly improved and it is now possible to hold two swords, making it an effective equipment for combat against MS.
Windam E1 type. As a minor change prototype of Windam, some MS have been deployed in advance to collect actual battle data. The main changes include the improvement of the head main camera and the addition of the arm beam vulcan unit.
This is the setting of Arsenal Windam. The concept is "Custom type Windam for ace and commander" and "SEED version Stark Jegan". I made it with an awareness of the MS that can demonstrate high mobility while being heavily armored.
The increased armor of each part is manufactured by semi-scratch based on existing parts and full scratch by plastic plate. By using a magnet to attach it to the main body, it can be freely attached and detached even after painting.
Work by: Evolt
aka Neogahe on Twitter