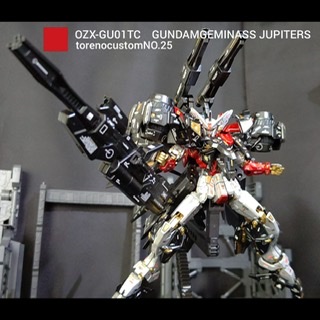 Custom build HGAC Gundam Geminass Jupiters: images, info
From the Modeler:
This time I tried to remodel HG Gundam Geminass 01
I made it with enthusiasm because it is my first premium Bandai
First is the front
The kits used this time are:
HG Gundam Geminass (with expansion kit)
HG Jupitive Gundam
HG Gundam Vidar
Double Rebake Rifle
MS option set
This time I'm painting gold on the thin part
The back is served with an expansion kit and Vidar thrusters.
Next is the introduction of armament
Beam saber (from Geminass)
Twin Cannon (from MS option)
GUN action
Planet Defender Armor
An armor arrangement of the Planet Defender that creates a defensive field!
Assembled with a double Rebake rifle and Vidar's waist, and made with a color scheme like that
Large machine gun rifle
The main weapon of this aircraft, a combination of a Lupus smoothbore and a Jupitive machine gun.
Before painting
The golden part was painted with a Gundam marker!
That's all for this time! Thank you for watching till the end
Work by: トレノシティ
aka: jbm5000 ( Twitter account)